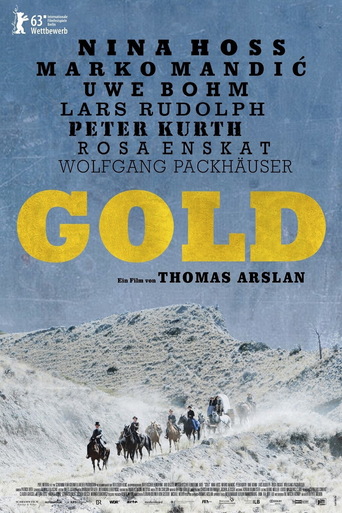 AD:This title is currently not available on Prime Video
Gold (2013)
AD:This title is currently not available on Prime Video
Canada, the summer of 1898. A group of German settlers travel towards the far north in covered wagons with packhorses and their few possessions in tow. The seven travellers set off from Ashcroft, the final railway station. Along with their leader, flamboyant businessman Wilhelm Laser, they are hoping to find their fortune in the recently discovered goldfields of Dawson, but they have no idea of the stresses and dangers which lie ahead on their 2,500 kilometre journey. Before long uncertainty, cold weather and exhaustion begin to take their toll and conflicts escalate. The journey leads these men and women deeper and deeper into a menacing wilderness. (Berlinale.de)
...
Watch Trailer
Show More
Cast
Reviews
That was an excellent one.
More
Excellent but underrated film
More
A movie that not only functions as a solid scarefest but a razor-sharp satire.
More
Exactly the movie you think it is, but not the movie you want it to be.
More
About 35 min in they kill a horse, I kind of saw it coming. Also up to that point all they do is ride horses and lead pack horses, talk about filler.I would not have minded the tediousness if they had at least done some actual western stuff, but it is clear the people who made this movie did not know much about how things were actually done in western times/how people coped on long riding trips, so they had the actors ride horses and lead pack horses.I actually would have finished the movie if it were not for the horse they killed. Its pretty obvious that this is one of those movies that had 'ballot stuffers' and some phony reviews.
More
Italian cowboy movies are called spaghetti westerns, so maybe this German one should be called a schnitzel western, or a sauerbraten western, or some such thing, but it's definitely not a "western" western. This German-made film about a group of Germans traveling from the US through Canada to get to the Dawson gold-mining area in the late 1800s has some beautiful Canadian scenery, and a realistic look to it, but overall it's just too slow-moving and, frankly, depressing to qualify as a "western".It has the cold, gritty look of Clint Eastwood's "Pale Rider" and Kevin Costner's "Open Range"--not necessarily a bad thing--but I think it's too relentlessly downbeat and, to be honest, depressing for most viewers' tastes. The film is totally and completely humorless--I know the West of the time was not exactly a laugh riot, but so many bad things happen to so many people so often that you actually start getting depressed watching this. Just about the only "light-hearted" moment is when one of the group stops in a saloon while traveling through a town and asks the bartender for three bottles of whiskey and one glass, while the other customers just stare at him. That's pretty much it.The box cover says the film is 101 minutes long, but believe me--it seems a LOT longer than that. Unless you like dark, moody, somewhat self- indulgent westerns that move like molasses, I'd say skip this.
More
I remember very well the feeling I had when I walked out of the theater after watching "Gold" : the movie was so realistic that I couldn't get out of my mind life's knocks during the particular era of the movie - and how lucky I was to live in Europe these days, have a secure job, a house and loving family."Gold" deals with a common story of the 19th century in North America : a trek of settlers decide to go up north in search for gold. The variety of characters makes it easy to identify with a least one : there is the lonely guy, the intriguing girl, the elderly couple, the crook ... the harshness of nature and human behavior point out their vulnerability but can also reveal their pugnacity and strong character. Everything seems to match in "Gold" : the beautiful landscapes without any track of man, the very discreet music, the simplicity of these settlers' habits, the whole making this movie quite fascinating. I absolutely recommend it to anyone willing to see what a contemporary western could be.
More
At the time when it was released - right in the middle of August - both in Germany and in France, Thomas Arslan's seventh film, 'Gold', appeared as the ugly duckling puddling clumsily around the pond of Summer movies. No cheap thrills, no big gags, no sultry scenes in this German UFO. Nothing about it to draw huge audiences. To begin with, it is a western, once a popular genre but today the ghost of what it used to be, at least in terms of box office (with the notable recent exception of 'Django Unchained'). Even worse, once again as far as box office is concerned, it is spoken in... Goethe's language! Okay, laugh you cynical money grabbers while it is still time! As for me, I would not be so surprised if this unusual effort should become a classic in the years to come. Agreed, associating the terms "German" and "western" looks incongruous at first sight but let's not forget there HAVE BEEN German "cowboy movies" before, mainly in the 1960's. Of course at the time they were generally nothing but undemanding adventure films meant for the young public, most of the time shot in Yugoslavia and aspiring to nothing higher than "to entertain". Whereas in the present case the ambition is different and while the end credits roll the viewer is now assured that the words "German" and western" can go together quite well. For 'Gold' is a little gem of a western movie, which is made apparent as of the first minutes through the feeling of authenticity it generates. For one thing, Arslan's rough and uncompromising work is shot entirely on location: all the places shown or mentioned (Baskerville, Clinton, Goldbridge as well as the wastelands of British Columbia) are the real ones. Moreover, the writer-director has worked from actual documents of the time (the Yukon gold rush of 1898), among which photographs, newspaper articles and pioneers' diaries. All that is shown is therefore realistic, not to say hyper realistic, from the horse tack to the weapons to the costumes to the train. Such a serious approach is commendable and would suffice to make 'Gold' a good film but there is even more to it than the true-to-life account of the journey of a group of German gold diggers, namely an allegoric dimension. Indeed, Beyond the facts reported lies a fable about the futility of man's efforts. Driven by the lust to get rich quick, the seven characters (with the one exception of the determined female hero... but for how long?) ride and suffer only to give up or die in the end. A sense of utter absurdity is thus gradually built, reinforced by the structure of the movie (almost all the protagonists disappear one by one in the manner of an Agatha Christie whodunit). I am pretty sure John Huston would have liked 'Gold' even if its tone is yet more pessimistic than his (for Huston, the final goal is absurd, only the adventure is worth living whereas for Arslan, the whole thing is purposeless). Well made, well interpreted by competent German actors (among whom Nina Hoss as the dark, untamed Emily Meyer), 'Gold' is an excellent surprise. Not totally flawless (a faster pace would not have gone amiss), it is nevertheless an outstanding achievement in its category. And quite an unexpected one at that!
More