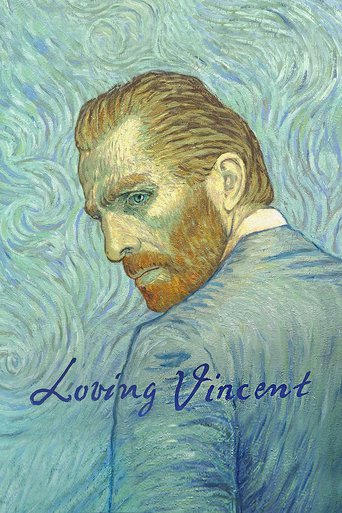 AD:This title is currently not available on Prime Video
Loving Vincent (2017)
AD:This title is currently not available on Prime Video
A painted animated Biopic about world-renowned artist Vincent van Gogh.
...
Watch Trailer
Show More
Cast
Similar titles
Reviews
Such a frustrating disappointment
More
The best films of this genre always show a path and provide a takeaway for being a better person.
More
Watching it is like watching the spectacle of a class clown at their best: you laugh at their jokes, instigate their defiance, and "ooooh" when they get in trouble.
More
A late artist, who only devoted himself to painting in the last eight years of his life, although he worked as an art dealer years earlier with his brother Theo. Vicent painted over 850 paintings, but while alive he had only one purchased. He died poor, supported by his brother. He was a creative and prolific artist as few, lived and left life miserable as many. The plot of the story in "Loving Vicent" describes Armand - son of Van Gogh's friend postman Roulin - trying to locate Theo to deliver him a letter that Vincent recounted just before he died. By the way, this is a fact that should be better explored in the animated feature, the two brothers exchanged many correspondences during these eight years in which the painter lived in France, especially in Arles and Saint-Rémy. The animation is entirely made up of oil paintings, based on techniques developed by Van Gogh and inspired by his paintings. A novella documentary, Loving Vicent (original title in English) is a work as exciting and inspiring as the works of the genius about which it narrates. There are 65,000 frames, produced by 100 painters! A great production for a great story. Named for the best animated Oscar in 2018, the film has already garnered nearly 50 nominations and 20 awards. Shame on you, Academy, for not having awarded the film. For those who like to admire beautiful paintings, being thus a fan of the painter who most influenced such art in the twentieth century, production is unmissable, and impossible to watch it just once. His last two months of life, probably the most productive, were lived in Auvers sur Oise. Among the paintings he produced in this city located 30 km away from Paris are "Portrait of Dr Gachet (first version), oil on canvas, 67 x 56 cm, June, 1890", "Sheaves of Wheat, oil on canvas, 50.5 x 101.0 cm, July, 1890" and "Landscape at Twilight, oil on canvas, 50.2 cm x 101 cm, June 1890". Beautiful demonstrations of his level of inspiration and creation in the period. The central point of the film is the treatment given to Vincent's emotional issues and his great artistic restlessness. Here we are presented with the view that he was not mentally disturbed, but emotionally unstable and extremely intense. The direction, the production and the writers deserve our congratulations by so deep sensitivity. A life without recognition, without success, without prominence and full of difficulties. Many human beings would wish not go on living, as Vincent Van Gogh has decided to do so. Still, I prefer to keep the image of the determined painter, who did not give in. Someone who, whenever he felt defeated, repeated to himself: Continue, continue, that is what is needed.
More
It's amazing, I got inspired a lot. Great! I loved the moving details, emotions, colours and the style
More
The animation of 'Loving Vincent' is, without a doubt, masterful. Every frame is literally a painting, and so the film looks stunning. Every animator that worked on this film should be proud of their achievement. Saying that, 'Loving Vincent' pretty much fails as a film. The narrative is terrible, the performances stiff, and it's simply a bore. Also, the screenplay is one of the worst of recent years. Blatant exposition is delivered in almost every single scene, and none of the characters are developed in the slightest bit, and therefore there's no reason to care about them or the story that they are involved in. This film proves that without a good screenplay, you can't have a good film. Sure, it might be a masterpiece of art, but it isn't a masterpiece of cinema. 4/10
More
This film was indeed made straight from the heart of whoever conceived this idea and the 125 artists who painstakingly handpainted its 65,000 frames. It is without a doubt so visually stunning and on top of that, the cinematography and storyline is actually great. Every scene is well thought out, even the voice acting is impeccable, and overall it is just an incredible piece of art, which also happens to be about one of the greatest artists in history. 30 years from now I am looking forward to showing this to my grandchildren. 10/10!
More