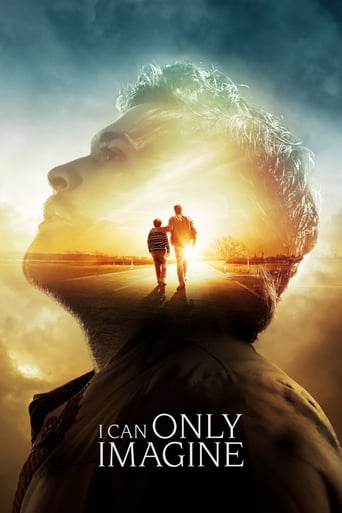 AD:This title is currently not available on Prime Video
I Can Only Imagine (2018)
AD:This title is currently not available on Prime Video
Growing up in Texas, Bart Millard suffers physical and emotional abuse at the hands of his father. His childhood and relationship with his dad inspires him to write the hit song "I Can Only Imagine" as singer of the Christian band MercyMe.
...
Watch Trailer

Show More
Cast
Reviews
As a born again Christian, I tend to rate Christian movies higher than most, but this high rating has absolutely nothing to do with the fact that it's a Christian movie. Every part of this movie is very well written, well designed, well acted, and emotionally genuine. It's just a fantastic story and it blows my mind that such an inspiring and uplifting story is actually real. There were points when I was frustrated, happy, laughing, and crying. It's just an unbelievably great story and so we'll producted. Dennis Quaid, I solute you. I never guessed that you'd be able to take on a serious dramatic role like that and nail it so masterfully. He deserves an Oscar for this performance. You all gotta see this movie;
More
This was such a big disappointment when i watched the trailer i thought it could be interesting but the result was a christian tv channel film very bad script full of cliches and almost every scene you see a bible around the corner on a table on a bed etc.
More
Well made and compelling, with some sag now and then and an intrusive, overbearing score, this is a moving story about forgiveness and the crazy music business. However, it's not about Jesus Christ or the Gospel. Our Savior is barely (if at all) mentioned. The SOURCE of all forgiveness, His death for all sin and resurrection-the GOOD NEWS!- is never presented. Some characters even attribute the song "I Can Only Imagine", to changing their lives--not Jesus Christ! The abusive father's life change apparently came through listening to a magic radio. Then there is the absurd glorification of worldly success. This is a nice religious movie for a comfortable church goer about a magic song that can magically change lives.
More
Inspiring story of forgiveness and God's awesome power to transform a life.
More