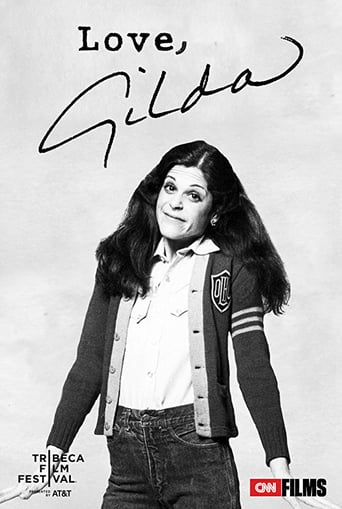 AD:This title is currently not available on Prime Video
Love, Gilda (2018)
AD:This title is currently not available on Prime Video
Diaries, audiotapes, videotapes and testimonies from friends and colleagues offer insight into the life and career of Gilda Radner -- the beloved comic and actress who became an icon on Saturday Night Live.
...
Watch Trailer
Show More
Cast
Similar titles
Reviews
This is one of the few movies I've ever seen where the whole audience broke into spontaneous, loud applause a third of the way in.
More
All of these films share one commonality, that being a kind of emotional center that humanizes a cast of monsters.
More
There are moments that feel comical, some horrific, and some downright inspiring but the tonal shifts hardly matter as the end results come to a film that's perfect for this time.
More
An old-fashioned movie made with new-fashioned finesse.
More