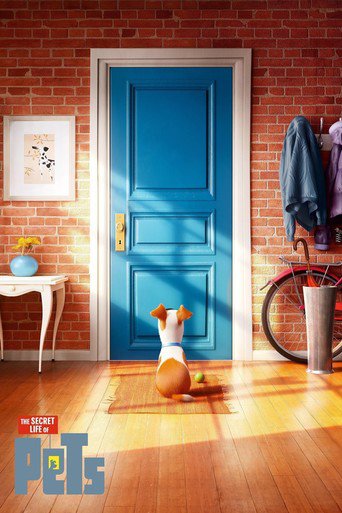 AD:This title is currently not available on Prime Video
The Secret Life of Pets (2016)
AD:This title is currently not available on Prime Video
The action comedy is set in a Manhattan apartment building. After the two-legged residents head for work and school, their pets gather to start their day, which consists of hanging out, trading humiliating stories about their owners, and helping each other work up adorable looks that will lead to more snacks. The head hound is a quick-witted terrier rescue (Louis C.K.), whose position at the epicenter of his master's universe is suddenly threatened when she comes home with Duke (Stonestreet), a sloppy mongrel with no polish. The two soon find themselves on the mean streets of New York, where they meet the adorable white bunny Snowball (Hart). It turns out that Snowball is the leader of an army of pets that were abandoned and are determined to get back at humanity and every owner-loving pet. The dogs must thwart this plot and make it back in time for dinner.
...
Watch Trailer
Show More
Cast
Similar titles
Reviews
The Age of Commercialism
More
This is one of the few movies I've ever seen where the whole audience broke into spontaneous, loud applause a third of the way in.
More
This movie mostly nonsense and filler. The plot is a mess, there's very little logic and theres a few too many poop and pee jokes. This movie gets pretty absurd. If you like nonsensical, violent, animated movies then you can get a lot out of this. Its basically just like 90 minutes of animals running around beating each other up and dream sequences. This movie has a lot of dream sequences. This movie is stupid and forgettable. Its not worth watching, but there is a small amount of enjoyment to be found in how stupid everything is.
More
(Not sure there's any real spoilers in here, but safe than sorry.) I thoroughly enjoyed "The Secret Life of Pets"! It tells a great story that a lot of us can relate to, especially us older siblings! Max the Jack Russell Terrier has a pretty great life with his owner Katie in an apartment in Manhattan. That all gets upended when Katie brings home Max's new "brother", an... um... "exuberant" mutt named Duke.They do not, needless to say, become best buds from the get-go.What follows from there is a humorous, exciting tail (whoops) I mean "tale" where we are introduced to a myriad of interesting characters - my favorite being Gidget, a feisty and good-humored Pomeranian (voiced by Jenny Slate). Max, btw, is voiced by Louis C.K. and Duke by Eric Stonestreet, both doing terrific work.But it's Kevin Hart, voicing the movie's main antagonist Snowball, a VERY bitter white rabbit, who steals the show - for a very real, very tragic reason. Abandoned by his human, Snowball has organized "The Flushed Pets" - other animals callously tossed aside by people that just got tired of them.Sure, there's lots of laughs in "Pets" (some of which will go right over the heads of kids), but there are also some pretty good teaching moments, especially about being a responsible pet owner.
More
Humorous, adventurous, and another well done Illumination movie. This movie shows the brilliance of its company and the developers behind it. The content kept me amazed and was filled with non stop fun! A definite must have for your Illumination collection. Can't wait for The Secret Life of Pets 2 in 2019.
More
I don't know why it got so many bad reviews honestly, it was adorable. Any person who loves animals would fall in love with this movie easily. Also the animation and the sounds are very successful. Don't hate the movie, hate the game people.It is both suitable for children and and families. There are enough references for adults to enjoy and burst into laughter and enough things that children would find very amusing and entertaining.
More