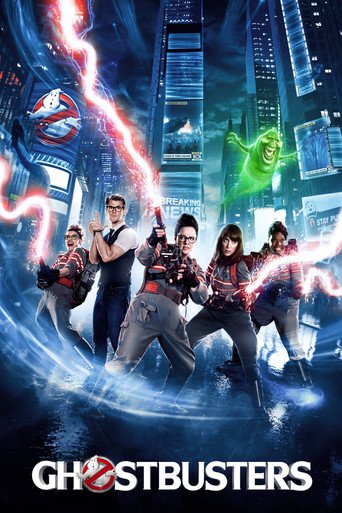 AD:This title is currently not available on Prime Video
Ghostbusters (2016)
AD:This title is currently not available on Prime Video
Following a ghost invasion of Manhattan, paranormal enthusiasts Erin Gilbert and Abby Yates, nuclear engineer Jillian Holtzmann, and subway worker Patty Tolan band together to stop the otherworldly threat.
...
Watch Trailer
Show More
Cast
Similar titles
Reviews
Surprisingly incoherent and boring
More
It's entirely possible that sending the audience out feeling lousy was intentional
More
Excellent and certainly provocative... If nothing else, the film is a real conversation starter.
More
Story: It's very simple but honestly that is fine.
More
When I heard they were making a female ghostbusters reboot, I had high expectations. This movie isn't anything amazing, but it's certainly progression.I feel like for it to have succeeded, it'd had to be perfect in every way. Whether this is because it's an all female cast or because of its predecessors I do not know, although I feel it may be both. Although not breathtaking, this movie did its job by providing the humour and good cast that I expected. The jokes are funny, albeit sometimes cheesy and the male receptionsit really delivers the best lines. I also love how self aware this movie is, the franchise itself is known for being over the top and they have really embraced it here.Plot wise, it's sweet and simple. A Physics professor named Erin attempts to remove her previous works on the supernatural from the public eye to avoid embarrassment. On the other hand, her old collegue Abby and her assistant Jillian are still using these works as the basis for their study at a seperate university.Erin attempts to persuade Abby to stop promoting their work, but instead gets roped back into the research project. They begin to investigate new areas and befriend their fourth member, Patty along the way. From here onwards, the plot revolves around two things... the capture and proof of the supernatural and attempting to discover whom is responsible for the sudden spike in paranormal activity, whilst the government attempt to cover up all evidence to prevent public outcry. Of course, the person responsible for the increase in ghosts is intent on using them for destruction and must be taken down, even if it means wiping out all the collected evidence of the ghosts existence. I highly reccomend a watch if your looking for a bit of fun that all ages can enjoy, just don't expect an Oscar worthy plot and you won't be disappointed.
More
Terrible Story.... Terrible plot ... Terribly acted What was the point of this movie ..? Tried to copy parts of the original it but bring it up to date & totally failed. No funny bits or any of the magic from the original
More
Ok, so it's not the original movie that won our hearts in 1984. However, it didn't ruin my childhood either. Kate McKinnon's pseudo Egon character is Ober the top strange and annoying, but watching her on SNL, makes me believe that she is naturally strange and unfocused. Leslie Jones, steals the movie! I really like her character and her persona in general. Ghostbusters: Answer The Call, is not for diehard fans, it's not a great reboot either. It's a movie that you need to watch with the idea that it's just a fun movie about a group of ladies who are trying to capture ghosts. Don't over expect! The end credit scene seems to set up for a sequel, but I think there is too much hate for this one.
More
I'm putting all controversy aside for this film, because I'm one of the very few who was excited from the trailer. I mean the film has a great cast, a capable director, and it's the Ghostbusters what could be wrong? Well let's do this, first off the film is needlessly a reboot. With so many movie sequels coming out years and years after the original, Ghostbusters has an opportunity to do a continuation but instead decided to reboot a movie that didn't deserve a reboot, and nothing will ever be that first film from 1984, so the least you could do was give an entertaining follow up, but no remake it. I wouldn't mind that much if the plot and story left something to be desired but it's actually a very standard story which doesn't make for an interesting take, it basically Re-tells the original with a female cast and setting it in modern day. Speaking of which the cast, I actually love this cast Kate McKinnon and Chris Hemsworth give great performances and are definitely the heart of the movie, they are the only two that feel like their own characters. While I love Mcarthy, Jones, and Wiig who are all hilarious women and great actresses, there characters are not memorable and they aren't really given anything funny to say. It feels like Feig and the cast were told to play it safe and that's evident from the writing, effects, and awkward cameos. Finally last but not least, I personally always saw Ghostbusters as an interchangeable team, one that could have many different people with different genders or race or whatever, and an all female cast is not bad, but that shouldn't be a The whole point of a film. (especially Ghostbusters) This is a film that feels like it could've been so much more, but instead is a forgettable yet innocent feature that just needs more creativity and comedy that made the franchise work in the first place.
More