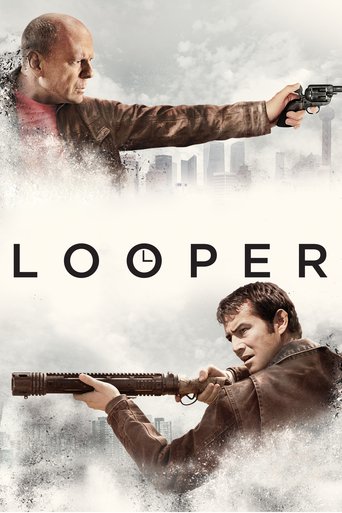 AD:This title is currently not available on Prime Video
Looper (2012)
AD:This title is currently not available on Prime Video
In the futuristic action thriller Looper, time travel will be invented but it will be illegal and only available on the black market. When the mob wants to get rid of someone, they will send their target 30 years into the past where a looper, a hired gun, like Joe is waiting to mop up. Joe is getting rich and life is good until the day the mob decides to close the loop, sending back Joe's future self for assassination.
...
Watch Trailer
Show More
Cast
Similar titles
Reviews
I cannot think of one single thing that I would change about this film. The acting is incomparable, the directing deft, and the writing poignantly brilliant.
More
A movie that not only functions as a solid scarefest but a razor-sharp satire.
More
This is one of the best movies I've seen in a very long time. You have to go and see this on the big screen.
More
The film never slows down or bores, plunging from one harrowing sequence to the next.
More
Looper takes a dump idea and makes it interesting, the acting is well done not sure how i feel about the makeup on the main character, it's interesting to see protagonist and antagonist are the same person, the future looks realistic in this film, overall go watch it it's very interesting
More
This is a movie for people who pay attention to every detail. I loved this movie so much I watched again the next day!
More
Why don't the mob send the people to a single place, like a warehouse owned by the mob in the 'present' and deal with them in bulk? That would reduce the needed labor force greatly. Why do the loopers have to finish their own future versions? To invite unnecessary complications or so that there can be a movie about it? Why 30 years? Aren't future loopers a threat to the mob 29 years 11 months from 'now'? I've watched the first 15 minutes and the movie is garbage in terms of story. Acting, directing, atmosphere bla bla... So it got a 3 from me instead of 1. The idea itself is fundamentally flawed even after you are ready to accept the idea of time travel.
More
I went to see Looper when it came out in Finland, and I was in love with it since then. I've always liked the idea of the story. It's complicated in the way time travelling stories are always complicated. Still the plot is mostly straight forward and it's clear what people want. Also it's brutal just in the right way.Of course if you're serious about the time travel aspect, sometimes the time travel paradox doesn't seem to make awful lot of sense, but if you're just in it for an action thriller then you're going to be fine.One of the weirdest things in this movie is to see Joseph Gordon Levitt look like Bruce Willis. Like he pulls that off, and it's not completely awful, but it just look odd. You could've made that happen some other way too, not just make JGL copy Bruce Willis completely... I'm usually not a big fan of science fiction, but when it comes to only small doses of science fiction, I might love it. With Looper the only doses of sci-fi are the time travel element and the telekinetic abilities possessed by some of the characters. Even if time travelling is a key element in the story, it doesn't make the story feel too futuristic. The weapons look pretty regular and there are only few futuristic looking vehicles in the world. This makes it possible for the story not explain the world too much. It looks and works pretty much like ours apart from the few details that are explained very clearly. It's not necessarily only a good thing: you might want to know more about the world, but you can't. You can only see the slightly dystopian aspect on how there are clearly wealthier people partying and then there's so much poverty on the streets and all that.If I absolutely hate something about this movie it's the sound mixing. Sometimes watching this movie is painful because the characters talk quietly but then there's all that action noises and shouting... It's easier if you have subtitles on, then you don't have to blast the movie on full volume. I often stop paying attention to it, but there's that one diner scene where I always pay attention to it, it's just super annoying.It's always a risk to rewatch a movie you used to like 5-6 years back, because you might ruin it, but also can you be neutral in reviewing it if you already like it? The thing about Looper is that while it's a good action movie, watching it too many times doesn't make it good, unfortunately. It's still alright, and there are still some scenes that are breath-taking, but everything between those few amazing scenes feels dull.
More