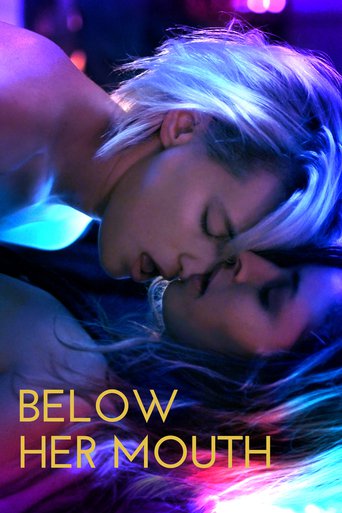 AD:This title is currently not available on Prime Video
Below Her Mouth (2017)
February. 10,2017
|
5.5
|
Drama
AD:This title is currently not available on Prime Video
An unexpected affair quickly escalates into a heart-stopping reality for two women whose passionate connection changes their lives forever.
...
Watch Trailer
Show More
Cast
Reviews
Fanciful, disturbing, and wildly original, it announces the arrival of a fresh, bold voice in American cinema.
More
The acting in this movie is really good.
More
Worth seeing just to witness how winsome it is.
More
An old-fashioned movie made with new-fashioned finesse.
More
There was no relationship development at all. This was just like a porno and it was so boring. There was more sex in it then words.
More
....but i actually find it rather sweet. Both the leads are exeptional in it, and the plot belivable. I did not mind the sex sceenes eighter. They were more beliveable than BITWC (a FRENCH film - not Canadian). I really found it quite sweet. I'd see it again :)
More
Those who watch this film for a bit of "soft porn" miss the point. The nude scenes of lovemaking are amazingly well done, moving, and strikingly realistic. They capture the kind of "madly, badly" in love passion that those fortunate enough to have experience in life will appreciate. Likewise, anyone seeing this as a "Lesbian" film, also misses the point, though that is an important part of the story line--with Natalie Krill's character coming out and cautiously and painfully discovering her sexuality. But more than sex, or lesbianism, or any other social commentary this is a film about how two people can fall madly and suddenly in love for reasons the heart and body only know. I think this is one of the finest films covering these complex and difficult themes I have ever seen. The photography is stunning.
More
truly a state paid movie. a precious jewel paid by the general public to ornate the panel of "diversity" achievements of a few state employees. so the movie has a goal: make some feel like a mecena with other people's money. the movie is slow. and has a lot of useless scenes. because the producers needed the magic of turning a short movie into a feature movie. the acting is stiff. which makes the passion ridiculous. i have read the movie is erotic. far from it. it just shows some sex scenes. nothing erotic. some of the scenes are gratuitous, meaning they do not help the story but something else. what? i don't know. it probably has to do with the due gratification for the state workers. and the worst part to complement this short and rather dull script is the direction. so when a woman goes away from somebody else, she is going to that person's car and in a dark alley instead of just calling a cab. yea. it makes perfect sense. how else would anybody link the open truck sex scene for a tame girl who believed till a couple of days before that she is straight and ready to marry?
More