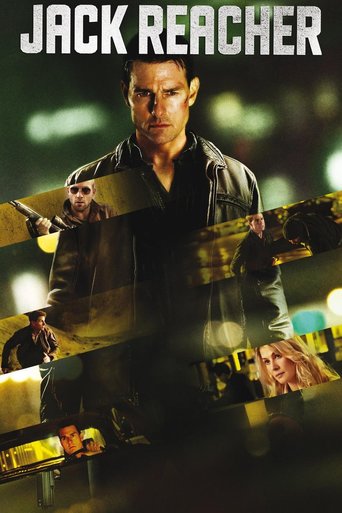 AD:This title is currently not available on Prime Video
Jack Reacher (2012)
AD:This title is currently not available on Prime Video
In an innocent heartland city, five are shot dead by an expert sniper. The police quickly identify and arrest the culprit, and build a slam-dunk case. But the accused man claims he's innocent and says "Get Jack Reacher." Reacher himself sees the news report and turns up in the city. The defense is immensely relieved, but Reacher has come to bury the guy. Shocked at the accused's request, Reacher sets out to confirm for himself the absolute certainty of the man's guilt, but comes up with more than he bargained for.
...
Watch Trailer
Show More
Cast
Similar titles
Reviews
Very very predictable, including the post credit scene !!!
More
Excellent adaptation.
More
This story has more twists and turns than a second-rate soap opera.
More
All of these films share one commonality, that being a kind of emotional center that humanizes a cast of monsters.
More
I watched this with my husband last night. It started off well and got cheesy fast. I think the dramatic entry of the cops did it for me, with the camera landing on the black cop who stood there and posed for his entrance shot with gun drawn and his best intense look. Then the female lead - I kept asking my husband, why is she loud whispering all of her lines? After about 1/3 of the movie, hubby hung in there like a trooper, enduring the badness while I jumped on IMDB and started reading reviews. I kept laughing out loud and hubby paused the movie while I read him some of the funnier comments. We were waiting in anticipation for the "drink blood from your boots line" since I had already read about it. It did not disapoint. It was as bad as we hoped it would be. We also re-watched the botched "attack" in the bathroom scene several times while cracking up at the slapstick comedy. How did Jack Reacher walk away after being bashed in the back of his head with a baseball bat? He sat in the tub looking up as if he had just had lunch! But I got two things out of it. One, a fun movie night with my husband and two, I'm going to go out and get some Jack Reacher books right away. I look forward to meeting the REAL Jack Reacher.
More
The storyline has nothing of interest and the people act boringly. Even the villain is boring. Don't get me started on Tom's character. He plays Tom Cruise, which is boring, not a Jack Reacher. Maybe they are equally boring? A total waste of time. Make sure you make out at least if you're forced to a chance on this one.
More
A homicide investigator digs deeper into a case involving a trained military sniper who shot five random victims. Jack Reacher gives Tom Cruise another shot on playing a badass action hero other than his Ethan Hunt in the Mission Impossible Saga and regardless what anyone said about his casting he did a great job in the main role, he was funny, cool and pretty badass and even Jai Courtney (Terminator Genisys, Suicide Squad) did a very good amount of job as one of the villains. This movie is not one of Cruise's best like his Mission Impossible movies or Minority Report but it's definitely a fun and really action packed ride that some viewers will definitely enjoy it for what it's worth. (10/10)
More
I like Lee Child's books and have read most of them including the one that led to this film - One Shot.All in all, it's a decent yarn, with plenty of action, the odd improbable conclusion drawn from nowhere and some decent, if not outstanding acting performances. My only problem with the film is that Tom Cruise is such an unlikely - and unbelievable - vigilante / trouble shooter.The books give the impression that Reacher is a huge, hard-nosed guy. Some of the situations Cruise gets into, and out of, seem a little unlikely to say the least.Still worth a watch though
More