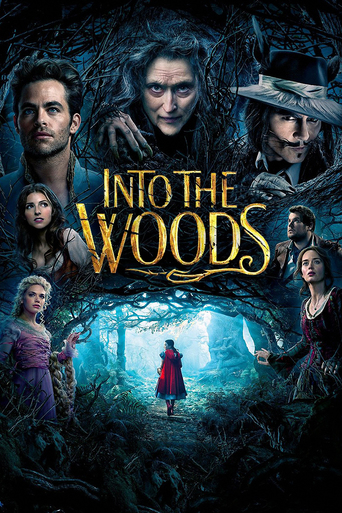 AD:This title is currently not available on Prime Video
Into the Woods (2014)
AD:This title is currently not available on Prime Video
A witch conspires to teach important lessons to various characters of popular children's stories including Little Red Riding Hood, Cinderella, Jack and the Beanstalk and Rapunzel.
...
Watch Trailer
Show More
Cast
Similar titles
Reviews
Don't listen to the Hype. It's awful
More
It's the kind of movie you'll want to see a second time with someone who hasn't seen it yet, to remember what it was like to watch it for the first time.
More
It is neither dumb nor smart enough to be fun, and spends way too much time with its boring human characters.
More
The movie's neither hopeful in contrived ways, nor hopeless in different contrived ways. Somehow it manages to be wonderful
More
Continuing my plan to watch every Johnny Depp movie in order, I come to Into The WoodsDespite seeing positive reviews, I skipped this in cinemas, as I just thought it was more of the same from Depp!! I have to say I was wrong, as I seriously enjoyed it. I enjoy a good musical anyway and I love Anna Kendrick, so I am slightly biased.I think Anna Kendrick is a great actress (see Up In The Air) but I tend to not love her movies, and usually only make it through them, due to me having a weird crush on her!! She is not obviously attractive, but she has a certain something about her. She does have a great voice, but she seems to be stuck making Pitch Perfect sequels and things like Mr Right and Get A Job, when she is capable of so much more. One of my main problems with this is, it just tries to incorporate too many subplots!! Like with Dark Shadows trying to get years worth of storylines from the tv show in to one movie. This is the same!! Truthfully you could have almost removed the entire Emily Blunt character sub plot from the movie and it would not be missed!! There is just too much going on.But I do enjoy it!! James Corden is fine and (one of the nicest celebs I have ever met) as is Chris Pine, sending himself up!! though I was surprised Meryl Streep got an Oscar nod here. As for Depp, he only has two scenes, and less than 5 minutes screen time. Here is his main one. Singing a seriously creepy song that more than hints at something creepier..... or maybe it's just me!! Lol All the songs are pretty catchy, and I watch this pretty often with my girlfriends daughter. Into The Woods grossed $128 million at the domestic box office to end 2014 as the 23rd highest grossing movie of the year!!
More
Me and my friend got dragged to see this movie. I thought it would be pretty good and there was nothing else playing I want to see, so sure. After it was over, I thought to myself, did a really waste two hours of my life watching this move and I'd also realize I would never get those two hours back. During the movie, I was hoping it would get to the ending to end. It was all bad; the story, the characters, and nothing like the fairly tales we know and none of them lived "happily ever after". The only good part of this movie was Johnny Depp's role as the Wolf and he was only around a short time too. Take me word on this and don't watch this movie!
More
It's an okay film... lots of musical numbers as others have mentioned. The fairy-tales are intertwined to create the story. Production values are high-end. It's a musical, songs are so-so. I do like some musicals and some I can't stand - this one is middle ground for me.My big disappointment is the fact that Depp was not in it very long... his character is bumped off about 25 minutes into the film. Call me a Cry-Baby about it - lol! 6/10
More
I didn't know how many times I've tried to watch this movie since I found out it was played on HBO. I fell asleep so many times and this could the sign of a kinda boring movie. I also just found out, when I finally finished the movie, that it was directed by Rob Marshall, the one whose some of his movies are on my favorite movies list: Memoirs of a Geisha and Chicago. The songs, although not quite entertaining as in Chicago, have beautiful lyrics. Sometimes I think they are out of tune? (Is that a correct term?) Since my listening in English is not so great, I found it a bit hard to follow. They sang too fast sometimes.Emily Blunt and Meryl Streep are my favorite casts here. They both funny, also the twins and the stepmother. I tried to like Anna Kendrick but I still couldn't find her attractive. The story itself is average.
More