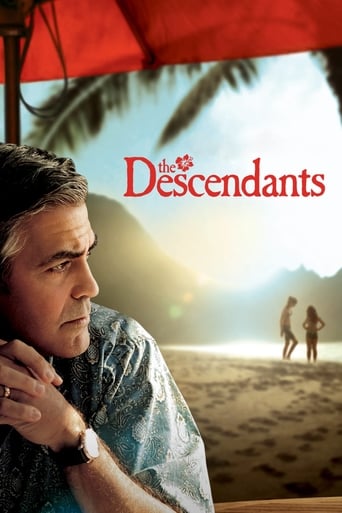 AD:This title is currently not available on Prime Video
The Descendants (2011)
AD:This title is currently not available on Prime Video
With his wife Elizabeth on life support after a boating accident, Hawaiian land baron, Matt King takes his daughters on a trip from Oahu to Kauai to confront a young real estate broker, who was having an affair with Elizabeth before her misfortune.
...
Watch Trailer
Show More
Cast
Similar titles
Reviews
Bad Acting and worse Bad Screenplay
More
There is, somehow, an interesting story here, as well as some good acting. There are also some good scenes
More
This is one of the best movies I've seen in a very long time. You have to go and see this on the big screen.
More
Actually i was expecting more after all the hype around it. yes the acting is fine, but i felt the movie is really empty. i was expecting better cinematography showing the beauty of Hawaii, no plot, no message(not necessary), no brilliant acting as it's claimed, no catchy background score, no character development..actually nothing is worth watching. not to be even compared with SIDEWAYS(the director's chef d'oeuvre). A Big Disappointment.
More
The Descendants is a bittersweet tragedy set in the supposedly idyllic paradise of Hawaii.Matt King (George Clooney) makes it clear that Hawaii is far from a paradise, just like other Americans they have to work hard for a living. Well Matt does not have to, he is descended from Hawaiian royalty. He and his cousins own vast acres of land which has provided them with a sizable income without needing to work.However Matt learned the value of work from his father, he is a Trust lawyer and is the sole trustee of the family land which is due to be sold off soon in advance of the changes in Hawaiian land law. Matt and his cousins will become very wealthy as their land is on the verge to be sold to developers.Matt also finds out that his wife is in a coma in the hospital after a speedboat accident. He now is in charge of his youngest daughter who is getting off the rails, needs to get to his eldest daughter who has gone off the rails when the doctor tells Matt that his wife will not recover.As the family prepares to say their final goodbyes, Matt finds out that his wife was cheating on him and he learns the true value of the land he is dealing with. Simply The Descendants is an intelligent film that deals with grief and relationships. Clooney anchors the film but it is director Alexander Payne who gets a great performance out of his actors.
More
The Descendants is a movie about a man in mid-life crisis and how he successfully manages to come out of it. Matt(GC) is the sole trustee of a huge piece of land and a lawyer. He has never really bothered to care about his two precocious daughters, Scotti and Alexandra, 10 and 17 respectively. The problem arises when his wife suffers a brutal head injury because she was adventurous enough to ride a motorboat. This is when things take a downturn for Matt as he has to now take care of his daughters on his own. Meanwhile he also finds out that his wife was having an affair at the time of her accident. It crushes him and afterwards he decides to confront the culprit too. Clooney has give n a nice performance in thiis one. It is worth a watch!
More
The opening sequences of director Alexander Payne's The Descendants include a short (maybe less than one second) image of a powerful and beautiful woman surfing on the waves around Hawaii. For most of the rest of the film the woman will lie in a comma on a hospital bed and she will eventually die. What happens when a dear and close family member is suddenly taken by fate (a surfing accident in this case) from among us? How does the husband, how do the kids cope? Do we ever end discovering who the closer human being to us is? The answer this film gives is no, even after accident and death do us apart, we may not end discovering who we live or lived with.I am no big fan of this genre of movies. I can cope with death on screen in horror flicks, action movies or westerns because I know that they are fiction. It's more difficult to deal with such subjects in a realistic contemporary story, and none of the 'romantic' comedy or melodrama genres films succeed to my taste unless they are really very good. Actually one of Payne's previous films, the 2002 About Schmidt was one of these due to the extraordinary performances of Jack Nicholson and Kathy Bates. Here we have George Clooney in the role of the real-estate owner and super-busy professional whose wife accident brings back to the earthly dealings of coping with his two daughters - one just our of the teen years, the other just before her teen years - and a complicated property heritage selling in which family interests conflict with the keeping of the Hawaiian tradition and attachment to the land. Clooney is better in my view in emanating authority than emotions, his sense of humor helps him overcome the limitations of his acting skills, but in this film I had the feeling his playing on the emotional cords did not completely succeed.Yet, there are a few real good moments. I mentioned the opening scene which kind of opens the path to what follows. The performance of Amara Miller (as the younger daughter) when learning about her mother's fate is simply amazing. Shailene Woodley is also acting well as the elder daughter. Moments of real truth surge here and there, when some of the supporting actors (like Judy Greer) are left to express their emotions in the patterns dictated by the story. Hawaii gets its opportunity as the background of a real American story and I can just hope that more movie makers will come here for other reasons than filming beaches and waves. The good moments mix however with a too high dose of melodrama, expected turns of the story, sit-com like approach to dramatic situations. The Descendants promise much, deliver less, and its initial success seems to fade, like one of these beautiful color photos whose contrast fades in time blurring the persons and the landscape.
More