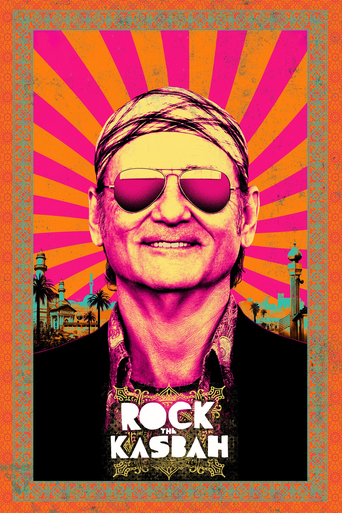 AD:This title is currently not available on Prime Video
Rock the Kasbah (2015)
AD:This title is currently not available on Prime Video
A washed-up music producer finds one last shot at redemption with a golden-voiced young girl in Afghanistan. However, when jealousy gets the better of a disgruntled ex-boyfriend, he decides to oppose the young star with talent of his own.
...
Watch Trailer
Show More
Cast
Similar titles
Reviews
It's entirely possible that sending the audience out feeling lousy was intentional
More
It's an amazing and heartbreaking story.
More
It is an exhilarating, distressing, funny and profound film, with one of the more memorable film scores in years,
More
Watching it is like watching the spectacle of a class clown at their best: you laugh at their jokes, instigate their defiance, and "ooooh" when they get in trouble.
More
Bill Murray almost always charms on screen with edgy comedic performances. (One exception is the much-touted "Groundhog Day," which this watcher thought was as annoying as a repetitive chorus in a pop song, a repetitive chorus in a pop song, as annoying.) But "Rock the Kasbah" is one of Murray's more charming films. In it, he plays a touring music manager who discovers a female daring to vocalize by herself in a cave in Afghanistan -- the law there forbids women from singing, so of course Murray represents her. Alongside this story, which is based on actual events, is a somewhat forced and perfunctory sub-plot involving guns, drugs and extortion; this is contrary to the theme of music saving the world and seems at odds with the theme of gender equality. Otherwise, this movie is a lot of fun. The bonus is Kate Hudson as a hooker who takes a break from her work to assist Murray in representing the Afghan woman. Her best line is "I fuc* like a mousekateer on crack" and the vitality she brings to her performance elipses any damage done by the thoroughly vapid Zooey Deschanel. A peace-train-rockin' soundtrack and sharp cinematography help buoy the uneven and interesting story.
More
The formula works for a comedy with Bill Murray. A low-down scoundrel with a good heart, redeems himself at the end by helping out an Afghan woman, to fulfill her dream of becoming a singer. Murray was his usual funny self and the best part of the movie. He played the fish-out-of- water character like we've seen numerous times before, and it works because he's Bill Murray. The funniest scene for me, was when he was singing Smoke on the Water, in front of the Afghan tribe.The movie started to drag on when it got into the geo-politics of Afghan society, where women are forbidden to sing and dance. At this stage of the movie, the comedy hit the wall and the messaging became too much of in your face and jamming it down your throat. The supporting cast was good with Willis and Deschanel. Willis has patented the tough guy with a sense of humor act and it works well here. Kate Hudson's character was too bizarre and out of place to like.
More
I watched this movie despite reading some really negative reviews. The cast and the story itself were enough for me to check this flick out. While the movie is good in almost all the aspects, including acting, directing, story and somewhat location filmed at, it was marred by stereotypical clichés. There were wrong references here and there. Since the movie was shot in Morocco, depicting Afghanistan, there were bound to be some mistakes. But these were glaring mistakes. For example the use of Arabic language here there. Pashto was widely used but in Afghanistan people mostly speak Dari, which is an amalgamated form of Pashto and Persian. Some of the people's clothing was also North African style which is a far cry from Afghan style clothing. Also the accent was more of Arabic speaking person than an Afghan. Afghan accent of English closely resembles that of Iran and Pakistan. Afghans can't pronounce the letter "F", instead they pronounce letter "P" in place of it. Arabs can't pronounce letter "P", instead they use letter "B" in place of it. In the movie almost everyone was using "B" instead of "P" just like Arabs. When you are making a movie, a little research goes a long way and now you have all knowing Google on your side, then why don't you before you start shooting.
More
I sat through it. Give me credit. Was it horrible? Uh, no, not horrible. Was it a good movie? Uh, no, not a good movie. Were there a couple of chuckles and did it kill time? Yes. Did it need more Zooey? Yes, oh yes. But alas, she left early on and it went downhill. I guess there was a background story here about a Afghanistan girl and a talent show and the politics involved. I get the idea but didn't buy how it was presented on screen. Probably a real important issue but this movie didn't do it justice. Give them credit for trying? Okay.There was some interesting scenery.You like Bill Murray? You want to see him be Bill? Fine, go for it. Otherwise, I doubt you make it through it.
More