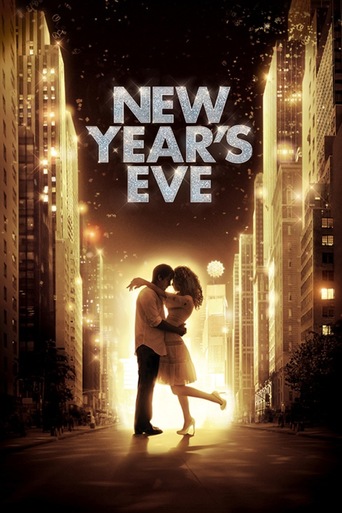 AD:This title is currently not available on Prime Video
New Year's Eve (2011)
AD:This title is currently not available on Prime Video
The lives of several couples and singles in New York intertwine over the course of New Year's Eve.
...
Watch Trailer
Show More
Cast
Reviews
That was an excellent one.
More
Am i the only one who thinks........Average?
More
Although it has its amusing moments, in eneral the plot does not convince.
More
Tells a fascinating and unsettling true story, and does so well, without pretending to have all the answers.
More
New Year's Eve is a simple movie in which the idea is portrayed in the title. You'd not expect that much, it had romance, comedy and fine actors. But I wouldn't say I sat through it all expecting something big, because no such thing would occur. But, I enjoyed my time after all. 6/10
More
With a cast of fine actors, New York City as the set, great musicians and an over $55m budget, Gary Marchall's "New Year's Eve" remains an "OK, no big deal" movie.Robert de Niro, Halle Berry, Michelle Pfiffer, Zac Ephron, Catherine Heigle, Josh Duhamel, Sarah Jessica Parker, Hillary Swank, Jon Bon Jovi, etc., all gifted performers, couldn't save the film from falling into the "no big deal" category.According to many, New York City is a set to die for. Directors have used its atmosphere to create lasting works of art or just intelligent entertainment. In this case the streets that contain the stuff that dreams are made of could not save it from being just another "no big deal" movie.And finally even the over $55m budget was used to no avail. What a waste! However, in all fairness, the movie is an excellent case study on how to convert the awesome into mediocrity.
More
Like Valentines day, this film follows the lives of really beautiful, successful people, and Robert De Niro, as they prepare, face, and reflect on their lives on New Years Eve, in good old New York, because everything is great there apparently...Marshall wants you to cry so much and like these people so much, you can almost see him in the corner if the screen shouting 'these are normal people, with problems just like you!! Like them, I order you too'.While the film isn't as offensive as Sex in the City, all versions, it's still pretty abhorrent to see beautiful people with perfect lives moan about really small things, and then lay on all the schmaltz come the end.Its a pretty impressive cast, but they are given very little to do other than read a really dull, sugar coated script out to each other, and look pretty.De Niro looks really embarrassed to be in this, and Elizondo pops up, as he always does in a Garry Marshall film, maybe he has photos of him or something.Come the end of the film, everybody gets what they want, people are nice to other people, and then its January the first,you wake up and realise that New Years Eve, the movie and the event, is just a big marketing ploy for you to spend lots of money, and be depressed for days after....
More
I watch this movie on TV because I'm a fan of Jessica Biel. You would think a movie with this many stars would be good well...You have Jessica Biel, Michelle Pfeiffer, Halle Berry, Robert De Niro, Cary Elwes Alyssa Milano, Seth Meyers, Jon Bon Jovi, Katherine Heigl, Ashton Kutcher, Abigail Breslin and Sarh Jessica Parker many more.You get a series of stories all taking place in one night on New Year's Eve in the city of New York.Like my review of valentine's day you get so many stars in one movie you can make it work or you can't.With New Year's Eve it's no difference.I'm not saying it's one of the worst movies out there it just another movie with so many stars that you like or you don't.The movie has it moments of enjoyment but some make you go Really? You have to have the right mind frame to watch this movie but again it's not bad it just in between.However if you're a fan of any of the stars I mention then you might find some enjoyment would make a good date movie.So all in all I give New Year's Eve a 6 out of 10
More