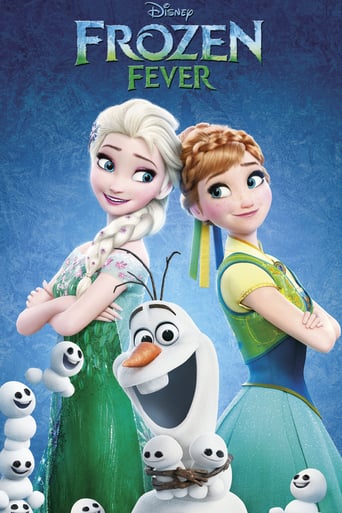 AD:This title is currently not available on Prime Video
Frozen Fever (2015)
AD:This title is currently not available on Prime Video
On Anna's birthday, Elsa and Kristoff are determined to give her the best celebration ever, but Elsa's icy powers may put more than just the party at risk.
...
Watch Trailer
Show More
Cast
Similar titles
Reviews
Save your money for something good and enjoyable
More
If the ambition is to provide two hours of instantly forgettable, popcorn-munching escapism, it succeeds.
More
It's the kind of movie you'll want to see a second time with someone who hasn't seen it yet, to remember what it was like to watch it for the first time.
More
It's not bad or unwatchable but despite the amplitude of the spectacle, the end result is underwhelming.
More
I first saw this film when I rented it on Amazon Video since I didn't get the chance to see it in the cinema when it was shown before the live action Cinderella (which wasn't as good as the original cartoon version but had a great cast) and as a fan of Frozen I really enjoyed this one so I purchased it on Amazon Video for subsequent viewings.While the song Making Today a Perfect Day takes up most of the film's running time and I didn't think much of it when I first listened to it on YouTube due to a similar line to one in Let It Go, it got better when I watched the film and it is very catchy. The story is not a rehash of that in the feature film because the relationship between Anna and Elsa significantly develops. The animation in this film is on par with that in the feature film as are the roles of Olaf, Sven and Kristoff while the simple story of Elsa worrying about ruining Anna's birthday with her cold has several moments that made me laugh, likewise with Tangled Ever After, and I liked the cameos from Prince Hans, Marshmallow and Oaken. The voice cast was also as good as they were in the feature film. In addition the snowgies that form whenever Elsa sneezes are adorable and the springtime dresses she and Anna wear are absolutely beautiful.All in all just as good as the feature film with its song, animation, humour and the developing relationship between Elsa and Anna being the aspects that stand out the most. 8.5/10.
More
First of all there are a lot of easily pleased people on here. stop calling this a movie or film because it is neither, it is a short animated "Clip", nothing more, thinking it is anything other than that only shows how deluded most people are, My Child was left with " was that it", there wasn't enough time for it to grab any attention and served only as a means to give frozen attention it has otherwise lost.Frozen Fever lacks any sort of real story telling and falls short when attempting to get you interested, from an un-catchy tune to an ending leaving you thinking, didn't that thing fall of a cliff in the first one, now it's friendly.
More
a great way showing the caring of both sisters. One making up lost moments since childhood days. One concern for her sister realizing something was wrong. enjoying the fun together bringing back memories that they both finding out how much they have missed one another during there time away from one another. A sister bond that never left knowing how much their love was always with each other in a different way. No matter how much Elsa like the cold it just means anyone can get sick. the concern that Anna has for her sister made it a beautiful story of a loving heart and that her sister was her priory being more important caring for Elsa health. Both sharing a deep love wanting to show how much they love and respect each other letting us all know the best gift is having two sisters that understand each other and their dream of finally being together sharing the fun since their childhood as well as working together for the people of Arendelle. It s the deep love that only got stronger during their rough moments learning more about each other as one.
More
As someone who loved Frozen and considers it one of Disney's best since the Renaissance, Frozen Fever(although for personal tastes it could have been a little longer) was quite a treat, just as good as the film and goes perfectly with it. Just as if went perfectly with Cinderella, the feature film it accompanied, which I also loved.The animation is not quite as polished as in the film but it is still beautiful with lots of attention to detail in the backgrounds and care in the character designs put into it, the rich and sumptuous colours are easy on the eyes too. Making Today a Perfect Day is a very good and catchy song that puts a smile on one's face, not quite on the same level as Let It Go but it stays very true to the style of the songs in Frozen(no surprise as the same composers were involved) and is certainly memorable. The rest of the music fits very well.Frozen Fever's writing doesn't disappoint. The dialogue is very funny without trying too hard to be so(Olaf in the ice palace introducing each of the snow creatures by name is hilarious) and also shows an emotional core without being cloying. While it's a potentially thin story with not an awful lot surprising the story was really charming with a good deal of funny- especially with Olaf- and touching moments, not to mention it was cute(not only Sven but especially the snow creatures). It was a wise move focusing as well on the sister relationship between Anna and Elsa, that was very well done and had a lot of heart. Anyone who has a sister or more that they love to pieces will really identify with them here.Nothing to complain about the characters either, all of them great characters anyway and in Frozen Fever they have everything that was so winning about them in the first place, the only change is Elsa and it was one that made perfect sense and necessary. The snow creatures are simply adorable. The original voice actors return and bring the same amount of energy and charm they brought in the film. Overall, a great short that Frozen fans, or at least most of them, will love. 9/10 Bethany Cox
More