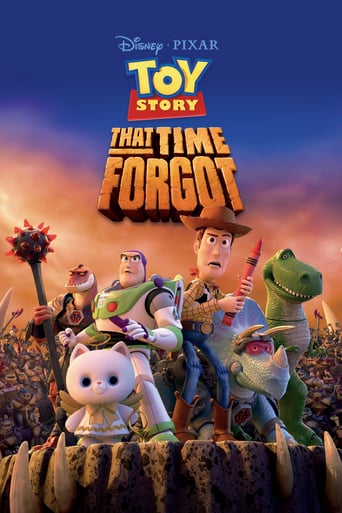 AD:This title is currently not available on Prime Video
Toy Story That Time Forgot (2014)
AD:This title is currently not available on Prime Video
During a post-Christmas play date, the gang find themselves in uncharted territory when the coolest set of action figures ever turn out to be dangerously delusional. It's all up to Trixie, the triceratops, if the gang hopes to return to Bonnie's room in this Toy Story That Time Forgot.
...
Watch Trailer
Show More
Cast
Similar titles
Reviews
The film never slows down or bores, plunging from one harrowing sequence to the next.
More
One of the worst ways to make a cult movie is to set out to make a cult movie.
More
This just feels like a typical Pixar movie with run-of-the-mill writing. But the character writing was alright, Bonnie is still the same and with the curiosity a child would have, her friend is pretty cool, too. It's nice to give Bonnie something new other than playing with toys all the time. I also liked the little kitty and Buzz, they were both alright, too.The voice acting was rough and Bonnie's voice sounded like an 8- year-old. She is supposed to be around 4 or something and because the girl who's voicing her was 14, unless they're proving to age her, she should be hired by a new voice actor. Especially Bonnie's voice, it sounded so annoying, like nails-on-a-chalkboard. Angel Kitty's voice was alright, though.The moral was unnecessary and heavy-handed.The other good parts is the jokes and the story was sympathetic. I suppose young kids age 6 and under might find something to enjoy out of this otherwise somewhat bland adventure of the imaginative toys.
More
Toy Story continues to be the best protected franchise ever filmed, as Pixar makes sure every entry with these characters is top notch. As usual, everything looks amazing, there are fun new toys to meet, and the pacing is brisk. You never have to worry about filmmakers who don't know their audience with Toy Story--they are so careful and demand the best for their viewers. Every moment that ends up on screen furthers the story and can be appreciated by any age viewer. There is a bit of a dig at gaming culture, as the message seems to favor active play over technology and screen time. But if you don't love the way Bonnie gets Mason to turn his dinosaur battlefield into a all-toy dance off, then I don't want to know you.
More
This 20-minute animated short film is the newest installment of the popular Toy Story franchise. In roughly 2 years from now, there will be a fourth movie and we got so many short films since the third film came out 2 years ago. Almost all of these were unfunny and forgettable. However, "Toy Story That Time Forgot" may have a pretty bad title, but it's definitely an improvement compared to the likes of "Partysaurus Rex". As always with these short films, one character of the gang is more in the center than everybody else and this time it's Bonnie. It's around Christmas again and she gets closer to a bunch of super-aggressive toy dinosaurs. Not much later, Woody and the gang are in danger of becoming victims to these dinosaur warriors as well. Can Bonnie save her friends? I thought this was a decent watch and I hope the next full feature film will be at least as good, hopefully better. These 20 minutes had decent fun, finally interesting supporting characters again, namely the dinos I just mentioned, some heart and decent morale at the end. Dinosaurs and Toy Story seems to be a good formula. I recommend this short film. To me, it was a positive surprise.
More
It's just after Christmas. Bonnie has a play date with Mason. She brings along Woody, Buzz Lightyear, Trixie the triceratops, Rex, and Angel Kitty. Mason got a new video game and he has't play with his other new toy, the Battlesaurs. Bonnie's toys meet Reptillus Maximus who is taken with Trixie. The Cleric has set up a gladiatorial world where the other toys are smashed by the Battlesaurs. Trixie explains the joys of play to Reptillus Maximus.The central message is to play more with imagination and toys, less with the video games. Trixie is the lead in this half hour special. She's alright to lead a special and the message is passable. There are a couple of fun scenes especially when Woody and Buzz are in it. Angel Kitty speaks with a child's voice which caught me off guard. She could be funnier. The show looks good, has some good moments but isn't anything particularly special. It's a reasonable showcase for Trixie.
More