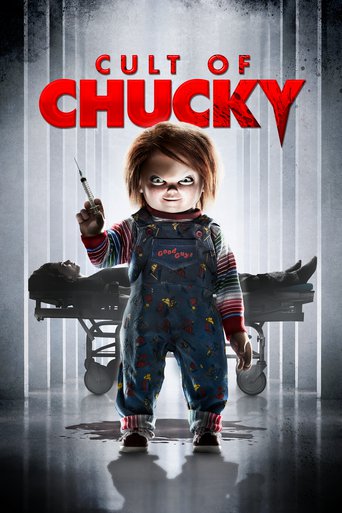 AD:This title is currently not available on Prime Video
Cult of Chucky (2017)
AD:This title is currently not available on Prime Video
Watch Trailer
Show More
Cast
Similar titles
Reviews
everything you have heard about this movie is true.
More
The plot isn't so bad, but the pace of storytelling is too slow which makes people bored. Certain moments are so obvious and unnecessary for the main plot. I would've fast-forwarded those moments if it was an online streaming. The ending looks like implying a sequel, not sure if this movie will get one
More
It's fine. It's literally the definition of a fine movie. You've seen it before, you know every beat and outcome before the characters even do. Only question is how much escapism you're looking for.
More
The film's masterful storytelling did its job. The message was clear. No need to overdo.
More
Ee This movie deserved a theatrical release and so did curse of Chucky, the acting from all of the characters was amazing whether it was how Fiona Douraf was playing Nica Pierce, Nica being possessed by Charles Lee Ray, the practical effects were absolutely amazing, and as always Brad Douraf did an amazing job playing Chucky
More
Cult of Chucky (2017) This is a horror film, The seventh installment of the franchise. It was written and directed by Don Mancini, who has been director since Seed of Chucky. It stars Brad Dourif as Chucky, and returning cast members from the previous six installments. It received good reviews for being such a late installment. It's a satisfying horror film maintaining the charm of its predecessors, while attempting some innovation.
More
The plot holes in this movie are the size of the grand canyon, now Chucky can possess different people and/or dolls all at once? Where'd he conveniently get that new little skill set? This was obviously filmed with a low budget because the CGI effects were cheesy at best. Please do everyone a favor and lay old Chucky down for good, it was a good run but as I stated IMO the series has ran it's course.
More
81% on rotten, numerous positive reviews from various festivals, critics, fans and of course only 5.2 on IMDb, now a haven of pathetic, frustrated trolls and haters. I saw this movie yesterday, at a theater in Rome at Fantafestival and this movie is a MASTERPIECE. Mancini confirms a great director and screenwriter, film photography is fabulous, the plot is fabulous, violence is at very high levels, it is undoubtedly the most violent and frantic chapter of the franchise, in the film is deepened the psychology of the characters . This is a perfect movie !!! my rating is 10/10 and all the pathetic haters can watch Justice League, Insidious, Crap and Furious and all the scum that's around. CHUCKY IS BACK !!!!!
More