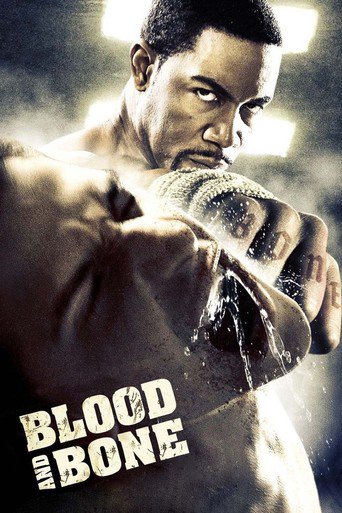 AD:This title is currently not available on Prime Video
Blood and Bone (2009)
AD:This title is currently not available on Prime Video
In Los Angeles, an ex-con (White) takes the underground fighting world by storm in his quest to fulfill a promise to a dead friend.
...
Watch Trailer
Show More
Cast
Similar titles
Reviews
One hour and a half of nothing
More
This story has more twists and turns than a second-rate soap opera.
More
The film creates a perfect balance between action and depth of basic needs, in the midst of an infertile atmosphere.
More
Just perfect, watch it. sssss sssss sssss sssss sssss sssss sssss
More
You know lads this film was an absolute banger. Few years back a mate big Tyler recommended it to me, 3 years down the line and I've finally watched it. what a film; fighting is smashing, smashing is fighting. All in all what a film. I especially love the character of Hammer-man as he reminds me of the rapper David Banner. Sorry lads but that's all i have to say, apparently these fools want your favorite geezer here to write 10 lines, I don't work like that mate. so sadly now I have to finish these 10 lines on a downer because all that's great about Blood and Bone can be summed up in the lines above. peace out my friends, I'll see you in the next review. This 10th line is the end, goodbye my friends.
More
Best martial arts movie I've seen. Not necessarily the best fight scene (that goes to Capt America vs. GSP), but best movie.The funny thing about martial arts movies is that the characters fight in top form, but you don't actually spend any time training.Now, I'm suppose to have 10 lines of text in my review. So what should I say. The protagonist is a lot bigger than many of the people he beat up at the beginning, so it was like "what the hey". And the final antagonist at the end...well, it was a disappointment. I somehow doubt that top rate fighters would be so easily quashed, and exhibit such cavalier conceitedness in the face of an unknown opponent. I mean, the showy way of dropping ones jacket when one is clearly outclassed.Speaking of class, the protagonist is clearly in a different weight class than the final opponent, so the outcome should have been no surprise.
More
Michael Jai White is a delight to watch on screen. Like Schwartzenegger, he gets marks even for just showing up. Unlike Arnie, he's got more than that to give. The fights are fantastic, mixing impressive choreography with a harsh weight to every kick and every punch. However, there's no challenge, no trial. He just messes up every single person who goes up against him. When his enemy pulls out a sword, you think "Awww yeah, here we go! Let's put him through his paces!" But guess what, he gets a sword too and is a total bad-ass with it. So what's the point, if he is never in any real peril? Feels too much like a vanity piece on MJW's part, too much bad-assery and no real conflict.Still, though; Fun to watch and if you want a martial arts film with a bit of a difference, you've got it, even if I prefer my heroes to feel like they could possibly be beaten.
More