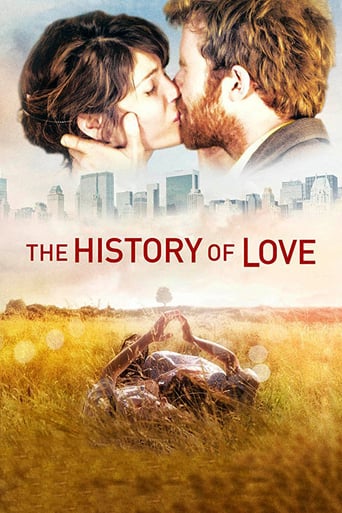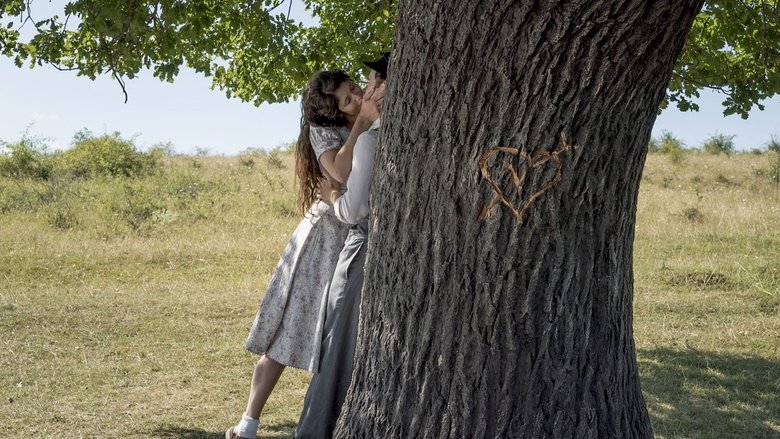 AD:This title is currently not available on Prime Video
The History of Love (2016)
AD:This title is currently not available on Prime Video
The story of a long-lost book that mysteriously reappears and connects an old man searching for his son with a girl seeking a cure for her mother's loneliness.
...
Watch Trailer
Show More
Cast
Reviews
A lot of perfectly good film show their cards early, establish a unique premise and let the audience explore a topic at a leisurely pace, without much in terms of surprise. this film is not one of those films.
More
Easily the biggest piece of Right wing non sense propaganda I ever saw.
More
Although I seem to have had higher expectations than I thought, the movie is super entertaining.
More
In the old world, country girl Alma (Gemma Arterton) is loved by three boys; Leo, Bruno, and Zvi. She makes Leo promise to write about his love for her. In 2006 NYC, Léo Gursky (Derek Jacobi) is a grumpy old retired locksmith. He is trying to contact his estranged author son over his autobiography and desperate to find a book called, "The History of Love". Bruno Leibovitch (Elliott Gould) is his neighbor friend. Alma Singer (Sophie Nélisse) is named after the Alma in the book. Her mother Charlotte (Torri Higginson) and her late father fell in love with the book. Her little brother believes himself to be one of the 36 righteous Lamed Vovnik in Judaism and is building an ark. She's in love with Russian boy Misha but she insists on staying friends. Her mother is hired to translate "The History of Love" into english.I know nothing about the book. I'm sure it's a romantic epic. This film is ambitious in its ideas. This could be a great movie concentrating on Leo. There is this story about Alma Singer which does not measure up to the epic romanticism of Leo's story. Adapting from a novel is often ambitious especially when the adapter is reluctant to use an ax to chop out sections. Alma Singer's story is probably necessary for the book but not for the movie. With a great veteran like Jacobi, this needs to trust his ability to take over the screen. It needs to be a character study of this grumpy old man. This could have been amazing but it needs someone more daring in adapting the material.
More
Its awesome how this film manages to twist and bring together its multi-layered story. Really heartwarming. Especially because you actually don't like any character of this movie. They are cute and you feel with them, but there isn't someone who is clearly the hero-main character. I really enjoyed it, all of them have there small personalities and mistakes. But you cant stop watching because of this.They cut out one scene with the young Alma, which i would regret as a cutter, because it clarifies the motivation of young Alma on the point, where i had some struggles to understand her only with the movie, though i have to say, you can understand her motivation only with the movie as well.Everybody who likes a heartwarming story with multidimensional characters and a multi-layered story, i can hardly recommend this movie.
More
I thought the movie was just great. It is a very moving story, based on facts that happened to the Jewish population in Eastern Europe during WW2. From beginning to end, there is nothing that I disliked about this movie. The characters, the story, the music, they all get a solid 10 from me.
More
My opinion---After "Go, Live and Become", "The Source of Women" and "The Concert" - Radu Mihaileanu returns with a most successful romantic fresco, where he will evolve these characters in different periods of their life, By the carelessness, love, promises and dramatic passages of their respective lives, with all the delicacy and emotions that Radu Mihaileanu knows how to put into his achievements by making us share them. This beautiful movie is also served in the most beautiful way by a cast of the most successful brings all the strength that will make this movie really good, thanks to: "Derek Jacobi" (masterful), the young "Sophie Nélisse" (Beautiful), "Gemma Arterton" (superb) and "Elliott Gold" (perfect), plus an effective scenario, you have all the elements of a superb film that I advise of course, because its quality is no doubt, good movie time.
More