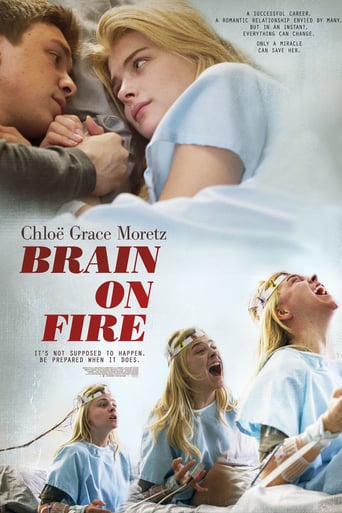 AD:This title is currently not available on Prime Video
Brain on Fire (2017)
February. 22,2017
|
6.6
|
PG-13
|
Drama
AD:This title is currently not available on Prime Video
A look at a young woman's rapid descent into insanity.
...
Watch Trailer
Show More
Cast
Similar titles
Reviews
Good movie but grossly overrated
More
Don't listen to the negative reviews
More
The film never slows down or bores, plunging from one harrowing sequence to the next.
More
While the incident was a rare and fascinating one, I felt that there could have been a lot more depth to the actual script. The acting was well done, but I felt like I learned little about this disease and it truly a fascinating and terrible one. The bulk of the screen time was devoted to the main character's break with reality and only the last 20 minutes or so was spent from the time she has the biopsy and recovers. Up until the last ten minutes, Susannah was still recovering from surgery.I would have liked to know more about the disease. What causes it? Is it hereditary? How is it related to regular epilepsy. Besides the small bit showing her walking with a can, the Physical therapy process could have been brought in more. Because there were not many peaks and valleys in the storyline it came off pretty flat for me.
More
I thought this was a great movie! Especially because it is a true story and they have used Susannah's experience to help thousands more people. Inspiring.
More
I usually don't comment on movies but this movie seems to have made an impact on lot of lives including doctor's. Her Book has actually helped people who has this disease. Great movie. Great acting.
More
For someone with an autoimmune disease, who went through hell to get the diagnosis, this movie was throughly relatable! The story was told really well - if only more doctors were as thorough as her last dr, we would all be able to live our best lives possible.
More