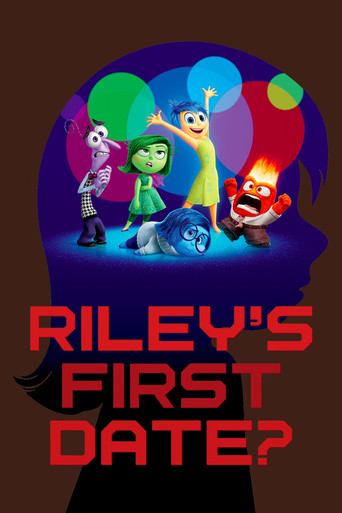 AD:This title is currently not available on Prime Video
Riley's First Date? (2015)
AD:This title is currently not available on Prime Video
Riley, now 12, is hanging out at home with her parents in San Francisco when potential trouble comes knocking: a boy shows up at the door.
...
Watch Trailer
Show More
Cast
Reviews
To me, this movie is perfection.
More
what a terribly boring film. I'm sorry but this is absolutely not deserving of best picture and will be forgotten quickly. Entertaining and engaging cinema? No. Nothing performances with flat faces and mistaking silence for subtlety.
More
All of these films share one commonality, that being a kind of emotional center that humanizes a cast of monsters.
More
Absolutely adore 'Inside Out'. One of my favourite Pixar films and ranks very highly by when it comes to animated films in general. Pixar have been responsible for some classic short films. 'Riley's First Date?' is not one of the classics but it's very good and at its best great all the same.'Riley's First Date?' may lack the imagination of 'Inside Out' and it is for my tastes too short, would have given it a couple more minutes myself. Having said that, it was really fascinating seeing how a very relatable and relevant subject, that a vast majority of people go through, affects Riley's parents with the same idea with the emotions as with 'Inside Out'.It's a great looking short, vibrant in colour, very rich in detail and with natural and expressive character designs. The music is a nice fit in how it's orchestrated and the mood it creates. Writing is very funny (Anger in particular) and very sincere, and there is a sweet, fun and touching story. The characters are easy to engage with and the voice acting is very good from particularly Diane Lane and Kyle MacLachlan. Didn't think personally that Kaitlyn Dias was too old.Overall, very good and great at its best. Would have been even better with a longer length. 8/10 Bethany Cox
More
Riley's First Date? is one of presumably several short sequels Pixar Animation Studios will make to further the world of their latest success story Inside Out. That film had the ability not only to inspire a wide-variety of ideas that could continue to develop the characters, but also managed to end by setting up the emotional banter and wit that ensued when the focused shifted into the heads of other characters. Inside Out's first short sequel plays with this by taking another look inside the heads of Riley's mother and father during nearly every parent's most feared situation.When a young boy named Jordan (voiced by Ben Cox) comes over to Riley's (Kaitlyn Dias) house to hang out, Riley's mother and father (Diane Lane and Kyle MacLachlan) immediately assume the "worst:" she has a boyfriend. Being that Riley is now twelve, she is inching ever-so closer to being a teenager, so similarly with Inside Out gradually hinting at the loss of childhood innocence by way of natural development, Riley's First Date? continues to expand on that idea. The short, in just under five minutes, focuses on how Riley's mother and father go about reacting to Jordan, despite no comment or indication that the two are dating. Riley's mother, whose emotional headquarters is lead by a less-brazen version of "Sadness," decides to try and pander to her daughter in way of cheap slang and lingo, while Riley's father, whose emotional headquarters is lead by a more conservative form of "Anger," decides to play defensively to try and intimidate Jordan.The short's brevity is a nice feature, as this isn't a lofty topic and, unlike Inside Out, which is almost entirely played seriously to showcase an eleven-year-old's emotions, this is played for laughs based on a recognizable situation. With that, Riley's First Date? is a sweet and sincere continuation of an idea that, despite its heavy pop culture exposure in the last few months, still has the ability and the promise it did when we first came into contact with it nearly a year ago.Voiced by: Kaitlyn Dias, Diane Lane, Kyle MacLachlan, and Ben Cox. Directed by: Josh Cooley.
More
Riley's First Date? is a very short film about romance in general. Riley, now going through puberty and her emotions realize that a boy is in the house who wants to date her. At first, they seem rather in disbelief but then proceed to go out on the date anyway. And then they never show anything else but that and it ends with a kiss from the parents.This makes it underdeveloped, I do wish they showed what she could do with this boy, Jordan. But this short was quite fun. You can get a look into Jordan's mind, which looks very cool and there are some laughs to be had but no sad parts.Kaitlyn Dias who plays Riley is okay but her voice is a little too old for the character, it sounds different, I know that she's going through puberty but it still could've worked for someone a little younger than a 16-year-old.
More
"Riley's First Date?" is a 4.5-minute animated short film that takes place after the end of Pixar's very successful "Inside Out". The question mark in the title makes a lot of sense as this is not really a date. Sadly for Riley's parents (and luckily for us), her parents aren't aware of that and try to ask her and the boy in their house what is going on. I thought the first 2 minutes were really funny and the second half was merely okay. The director is Josh Cooley, who also already made the "Up" sequel short film "George & A.J." and he voiced Jangles the Clown in "Inside Out".But back to this short film here. On a very positive note, they managed to get all the voice actors from the "real" movie in here as well. It is impossible to pack as much emotion and drama into such a short film as there was in "Inside Out", so they did not even try and made this 100% comedy here. And it's a job well done. Seeing the emotions inside everybody's heads just never gets old (or not yet) because it is something that looks different for every character and the moments we get to look inside Jordan's head were among the very best of this short film. I generally found the (lack of) conversation between the dad and Jordan funnier than Riley and her mother. The youth language thingey has been done many times already and it kinda stops being funny at some point, for me pretty quickly. But that's my only criticism. "Riley's First Date?" is a funny little movie and I recommend it to everybody who enjoyed "Inside Out". Thumbs up!
More