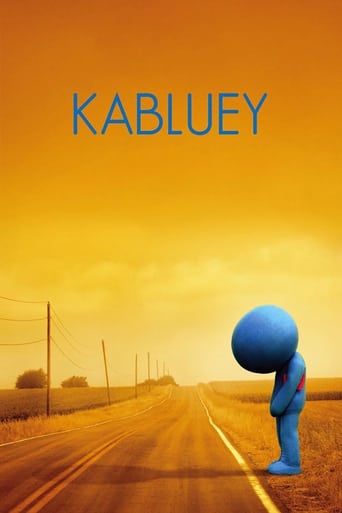 AD:This title is currently not available on Prime Video
Kabluey (2007)
AD:This title is currently not available on Prime Video
Leslie is left with few options when her husband is sent back to war in the Middle East. A modest amount of help arrives in the form of his brother, Salman, who is less than prepared to care for the couple's two preadolescent boys. When Leslie still can't make ends meet on her own, Salman is forced to find employment, but, with minimal qualifications, his only option is to become a mascot for a digital company by donning a bulbous blue costume.
...
Watch Trailer
Show More
Cast
Similar titles
Reviews
For all the hype it got I was expecting a lot more!
More
At first rather annoying in its heavy emphasis on reenactments, this movie ultimately proves fascinating, simply because the complicated, highly dramatic tale it tells still almost defies belief.
More
Blistering performances.
More
It's funny, it's tense, it features two great performances from two actors and the director expertly creates a web of odd tension where you actually don't know what is happening for the majority of the run time.
More
Kabluey has moments of whimsical fun. It's a bit slow, but you can't help but smile at the ridiculous characters, the strange situations and the sentimental moments. It almost plays out like a darker version of Napoleon Dynamite. Kabluey a likeable movie; it's just not a great movie.
More
Not many things in life are worth watching that will inspire you to laugh at other people's crazy situations more than this film. Filmed in and around Austin, TX, this 86 minute film wins you heart by captivating you with a surrealistic story-line that depicts the players lives as pure chaos.Our hilariously funny young man Scott Prendergast makes his feature film debut as the lead role, director, and writer. Prendergast strikes pay dirt on this one, making it fun to be quirky and strange. This sort of life imitating art is perfectly balance off as Salman (Prendergast) is suddenly thrust into the middle of his sister-in-law Leslie's (Lisa Kudrow) miserable situation as a wife with two small bratty kids trying to make ends meet while her husband serves another tour in Irag.It's quite hard to pick up on but Suze (Teri Garr) is supposedly the mother of Leslie (Lisa Kudrow). This actually happened once before on Friends (1994) with Phoebe's character.The most disturbing things about this film, is that Salman has no way of controlling his two nephews, Lincoln (Landon Henninger) and Cameron (Cameron Wofford). It's amazing that the uncle didn't hurt this one kid who poured something like comet in his mouth while he was sleeping. Ironically, when Salman finally wears his blue dot suit to the birthday party. The children completely change when they discover that Salman is inside the suit. They win a new respect for Salman since they think he's some kind of super hero.Leslie finds Salman a job at her defunct DotCom company BlueNexion. We find that Salman has no idea what he has gotten himself into. Kathleen (Conchata Ferrell) steals the show as Salman's stressed out employer who recruits him to go out into the middle of the country wearing the company mascot suite and pass out fliers. Ferrell small fits of rage with cursing, and the tantrums she has while hiring Salmans is completely unexpected. Every moment she's on screen is absolutely hysterical. Even though she's supposedly playing this seriously, the comedic nature of it all was way too funny. Too bad she doesn't have a show like Carol Burnett did.Kudrow plays this role with dignity and believability. It's not what I'm certainly used to with her roles, however, it is played so well she should have gotten an award for it. You could almost, for a few moments feel the pain in her life and the trouble she faces as an abandoned and troubled mother. The strong supporting cast also includes Angela Sarafyan as the weird grocery-store clerk named Ramona. Teri Garr plays a believable deranged woman who lost her savings with BlueNexion and takes it out on the company's big blue mascot. Christine Taylor has a very small part as Betty yet she gets a higher billing than Teri Garr. Jeffrey Dean Morgan is pretty good as Brad, one of the corporate bosses who seems to have a few tricks up his sleeve with his office secretary, Leslie.Roddy Bottum's makes all that you see much better with his charming and unconventional score that keeps the movie rolling right along. Their seems to have a lot of time put into the closing credit by introducing 4 or 5 really short, but interest sets of animation using the BlueDot guy. Perhaps one of the funniest scenes of the film was one where the blue kabluey guy ganged up with cheese-girl taking Polaroids of Brad at the Motel with his other girlfriend.Don't miss this film if you can help it. There are many things enjoyable in life & this is one.
More
When Kabluey is about a guy in a blue mascot costume with a giant blue football for a head, it's wonderfully absurd and charming. When it tries to deal with supposedly real people and their supposedly real problems, it's kind of forced and obvious. A strong performance from Lisa Kudrow, however, keeps the less artful moments of the film from dragging the whole thing down.Leslie (Lisa Kudrow) is a woman with a two-story house in the suburbs, a husband off serving in Iraq and two little boys (Cameron Wofford and Landon Henninger) who are so out of control that Dr. Spock would have beaten them with a belt. Needing to go back to work or her kids will lose their health insurance, Leslie reluctantly calls in Salman (Scott Prendergast), her husband's sad sack loser of a brother. He'll stay and take care of Leslie's juvenile berserkers while she goes back to work at an internet firm devastated by the popping of the tech bubble.Though Salmon, who confronts life with a blank look on his face, struggles at first as a caretaking uncle, he eventually shows some marginal aptitude for it. As soon as he does, Leslie feels her place as mother threatened and gets Salman a job at her work so he can help pay for daycare. Salman gets stuck in big blue suit that makes him look like a featureless, hydrocephalic Smurf and plopped along the side of the road to hand out fliers for office space in the internet firm's largely empty building.Being a weird looking blue thing allows Salman to bond with his almost-feral nephews, interact with a sunken-eyed supermarket cashier (Angela Sarafyan), enrage an old woman (Teri Garr), discover that Leslie is having an affair with her boss (Jeffrey Dean Morgan) and gain the confidence to act that he's lacked his entire life. The story then ends with one of those "happy, but really not" endings that actually works for this movie.Every moment that Salman is in costume, Kabluey is funny, clever and visually entrancing. Every moment he's out of costume, Kabluey is just another indy flick trying to find humor in how much life sucks. The normal stuff isn't bad, it's just by the numbers and livened up only by Kudrow's fairly powerful performance in a cramped role and Conchatta Ferrell and Jeffrey Dean Morgan engaging in one of the greatest non-profane screaming matches in cinema history. It's Leslie's struggles with her husband's absence, her fear of being encroached upon as a parent and her adulterous diversion from her own unhappiness that are at the heart of this tale. Her character is missing for too much of the film, though, as it focuses on the shallow and undefined character of Salman. Kabluey is balanced between a character with plenty of depth but not enough exposure and one with plenty of exposure but not enough depth. If it had been about Leslie putting on the hydrocephalic Smurf suit, this movie would have instantly become 100% better.Writer/director/actor Scott Prendergast created something intelligent, entertaining and even a bit touching. He tried to blend whimsy and ordinary and didn't quite make it, but got close enough to produce a movie that's well worth watching.
More
I had really thought great slapstick comedy was a lost art, one that I'd have to go to DVD's of Chaplin, Keaton and Lloyd to experience. Then I saw "Kabluey." For the first half of the film I was laughing my head off, not only at the sheer outrageousness of it all but also at Scott Prendergast's brilliance at building gag on top of gag, making you laugh harder at each one until by the end of his "stack" you're literally screaming with joy. The second half slowed down a little but also proved that Prendergast could do pathos, and the ending is as heartbreaking as anything by Chaplin. There've been a few comedians in the modern era who showed they COULD have ranked with the stars of the past (Robin Williams, Jim Carrey), but Williams got stuck into too many overstuffed vehicles and Carrey seems to have been penalized by his audience every time he tried to reach beyond fart humor. Let's hope Scott Prendergast keeps making simple, unpretentious and utterly hilarious movies like this.
More