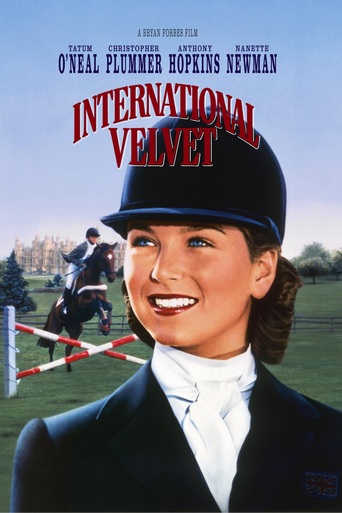 AD:This title is currently not available on Prime Video
International Velvet (1978)
AD:This title is currently not available on Prime Video
A charming sequel to the hit National Velvet follows our young heroine and her trusty steed overseas.
...
Watch Trailer
Show More
Cast
Similar titles
Reviews
It's fun, it's light, [but] it has a hard time when its tries to get heavy.
More
Good films always raise compelling questions, whether the format is fiction or documentary fact.
More
It is a whirlwind of delight --- attractive actors, stunning couture, spectacular sets and outrageous parties. It's a feast for the eyes. But what really makes this dramedy work is the acting.
More
Like its predecessor, National Velvet, International Velvet (1978) boasts a stellar cast: teenager Tatum O'Neal, the gorgeous Nanette Newman, and leading men Christopher Plummer and Sir Anthony Hopkins. It also has a more believable plot and a top-notch writer/director in Bryan Forbes (The Stepford Wives, The Slipper and the Rose, The Guns of Navarone, Colditz). The main stories are Sarah Brown's (O'Neal), an American orphan who finds herself in England with an aunt she doesn't know (Newman as the adult Velvet Brown), and of the horses and people inextricably entwined in their lives. A poignant and graceful growing up story of the challenges facing a difficult teenager and the adults who raise her, International Velvet has something for both horse lovers and non horse-lovers alike. More important than Sarah's bid for the Olympics is the love that is won. The cinematography and Francis Lai's soundtrack are stunning and awards worthy; Tatum should have won another Oscar with this role, too. Beautiful scenery. An under-rated feel-good family film!Warning: Box of tissues useful when watching this movie as, amid the love and triumph, there is some gritty realism.
More
This movie is my all time favorite movie. I want to be riding Arazonia Pi! This is definitely how i want my life to turn out (riding career wise)!!! Even better than National Velvet. If i could i would watch this movie day after day and i wouldn't even get the least bit sick of it. If you are an eventer you should definitely see this movie. It i an inspirational movie. Makes me want to go back to the barn and ride again or go to another event.The love that this girl has for her horse is wonderfully delightful. The support she gets from her aunt Velvet and her "Uncle" is also great. People from the age of 2 to 190 will like this movie. There are sad parts, happy parts, parts that make you mad, all kinds of emotions.
More
I saw this movie when I was 13. I think I must have seen it 50 times if not more. I bought 2 copies of the book, and have collected more than a few items of memorabilia that have to do with the movie over the years. I was so jealous of Tatum O'Neal, I wished it was me in the picture. I have been to Ledyard-where they filmed Sarah's first visit to the US as a member of the US team and it was awesome to see the 3 day eventing up close and personal. I love horses and even had my own for quite a while. (I even wanted to change his name to Arizona Pie but figured since he'd had his name for sometime that every time I called him, I was afraid he wouldn't come!!!) I have a copy of the movie and treasure it like it's gold! This movie is for anyone young or old who loves horses. It's a great family movie and one to be watched over and over again.
More
Luckily, horse lovers, particularly girls, will sit through two hours of B-Grade acting and weak plots for fifteen minutes of footage of showjumping. National Velvet, in which a little girl called Velvet Brown wins the grand national, was set in the 1920s.....in International Velvet, the now adult Velvet has reached 40 years of age.....International Velvet should be set in the 1950s. Instead, somehow it is the 70s, Velvet is in a defacto relationship with big hair and flared jeans and the link is at best tenuous. Would have been great if Elizabeth Taylor had played the adult Velvet at a realistic age, since she played Velvet in the original that made her a star.... Whatever, the horses are beautiful, the footage of cross country events and the birth of a foal is wonderful.....so girls like my pony-mad daughter won't notice the glaring inconsistencies, extraneous characters that serve no purpose, or the soap operatic sentimentality and nauseating 70s soundtrack. Great acting by Tatum O'Neal and Anthony Hopkins....although he would probably prefer to forget it!
More