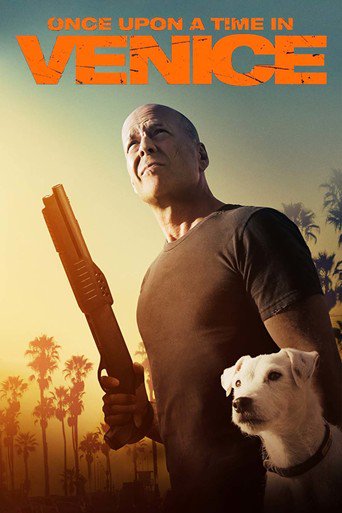 AD:This title is currently not available on Prime Video
Once Upon a Time in Venice (2017)
AD:This title is currently not available on Prime Video
An L.A. detective seeks out the ruthless gang that stole his dog.
...
Watch Trailer
Show More
Cast
Similar titles
Reviews
This story has more twists and turns than a second-rate soap opera.
More
Blistering performances.
More
The movie's neither hopeful in contrived ways, nor hopeless in different contrived ways. Somehow it manages to be wonderful
More
It's the kind of movie you'll want to see a second time with someone who hasn't seen it yet, to remember what it was like to watch it for the first time.
More
Loved it. It's almost as fun as Bruce's Moonlighting days. The only way this could get better is if it was the first part of a trilogy.
More
Steve Ford (Bruce Willis) is a down but not out L.A based Private Investigator whose professional and personal worlds collide after his loving pet Buddy is stolen by a notorious gang. A series of crazy circumstances find him doing the gang's bidding, while being chased by two vengeful Samoan brothers, a loan shark's goons, and a few other shady characters. They say a dog is a man's best friend, and Steve shows how far a man will go to be reunited with him. I'm trying to understand why Bruce Willis is still making movies i really do he could star in great movies such as Moonrise Kingdom and instead he chooses crappy comedies like this one. I didn't want to see Bruce Willis skateboarding threw the streets naked or an annoying comedic relief talking about his sex life it simply wasn't funny. Once Upon a Time in Venice is without a doubt inside the Worst Films from this Year and it doesn't make any Surprise to anyone right? (F)
More
'ONCE UPON A TIME IN VENICE': Four and a Half Stars (Out of Five)An action comedy starring Bruce Willis as a private investigator in Los Angeles, that's desperately trying to get his dog back from the gang of criminals that stole it. The movie also costars Thomas Middleditch, John Goodman, Jason Momoa, Famke Janssen, Stephanie Sigman, Adam Goldberg and Kal Penn. It was directed by debut feature filmmaker Mark Cullen, and it was written (and co-produced) by Mark and Robb Cullen; the duo also co-wrote 2010's 'COP OUT' (which also starred Willis). The movie received a VOD and indie theatrical release, and it's also gotten mostly negative reviews from critics. I really enjoyed it.The story revolves around a Los Angeles private detective named Steve Ford (Willis), and his assistant John (Middleditch). John narrates the film by describing Steve's current life, and adventures, to the audience. He also helps Steve out with some of his newest jobs. When Steve steals a car back for a friend, from a local drug dealer named Spyder (Momoa), Spyder retaliates by stealing a bunch of stuff from Steve, including his dog. When Steve goes to get the dog back, Spyder talks him into doing a dangerous job for him, in return for the dog. The movie is a lot better than I was expecting it to be. I liked 'COP OUT', because I thought it was nicely directed (by Kevin Smith), and it has a cool 80s cop movie feel to it (like 'BEVERLY HILLS COP', especially the music). It wasn't nearly as funny as this though, parts of it were pretty bad actually (mostly due to Tracy Morgan). This film is always clever, amusing and fun. It's not really an action movie, but it does have some fights and guns in it. The whole cast is good in their parts as well, and they seemed to be having a lot of fun. It's just a really fun, entertaining movie in my opinion, especially if you like Bruce Willis.Watch an episode of our movie review show 'MOVIE TALK' at: https://youtu.be/KR0HDeT91m0
More
I really love this kind of movies, lighthearted low ambition comedies with detectives or heists, sun and sea, and there are fewer and fewer being made. They can be really great, put in few famous actors that are having fun and it is a recipe for a classic.Unfortunately this is really bad, great casting on paper, but actors do not have fun, they act stiff, maybe because the script was poor (even though the basic plot itself isn't too shabby) or maybe they just didn't care. Goodman looks like he's focused on not falling dead at any moment, and Willis looks really uncomfortable outside of his standard action hero scenes. Jason Momoa's performance was the only one I felt up to star standards.Yes the actors are getting old and we can't expect blockbuster but I watched amazing comedies from Lemon, Matthau or Newman in their late years. This could be a gem and the wasted opportunity makes me really sad.
More