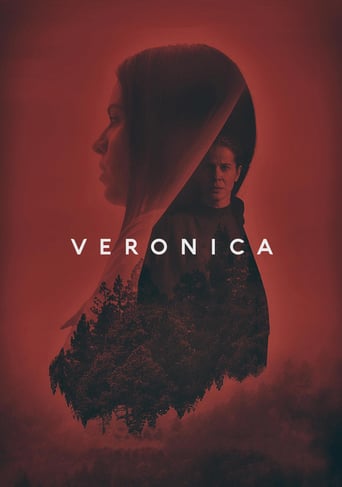 AD:This title is currently not available on Prime Video
Veronica (2017)
AD:This title is currently not available on Prime Video
A female Psychologist who has stopped practicing medicine, decides to take the case of Veronica de la Serna, a young woman whose previous therapist has mysteriously disappeared.
...
Watch Trailer
Show More
Cast
Similar titles
Reviews
Memorable, crazy movie
More
Good movie but grossly overrated
More
best movie i've ever seen.
More
It is a whirlwind of delight --- attractive actors, stunning couture, spectacular sets and outrageous parties. It's a feast for the eyes. But what really makes this dramedy work is the acting.
More
There is no way to talk about these movies, the two Veronicas, without spoilers. Interestingly enough, they share a common twist at the end. Plus, they are both weak before that point. I think this one in particular is weak due to the characters lacking depth and development. Given the minimal amount of characters in the film, the sin is dire. The plot has some holes on top of that. But the end, I think, is strong and interesting. The fact that the original screenplay had male characters and then they just switched their genders shows. The story is harder to believe as it was shot, perhaps because it is a very rare occurrence that needs a deeper explanation in the case of women, on account of how rare it is, in my opinion.
More
Movies who play mostly in one location are not everyones cup of tea. In this case you have two female actors who have to figure stuff out. Of course there is more to it and the question is how much you are willing to give in to enjoy this movie. The pacing is not the best and there are some sexual themes in there (and some nudity as well).But everything makes sense and it is tension filled. Performances are great too, even if and when you find some things annoying. Of course some behaviour may also seem questionable, but bear with it. Characters can be difficult and not everyone reacts the same. Also be aware there was another movie called Veronica that was more Horror specific than this one (I almost didn't watch this because I thought it was the other one - also spanish language), but more cliches and way more predictable too
More
The movie is done in a beautiful way. The simple setting and it being black and white keeps one in the uncomfortable feeling which is perfect for this genre.While the feeling of suspense remains for the whole movie one still has the feeling that one knows exactly how it ends. Yet at the end one still ends up getting a surprise and is satisfied that the movie ended up being not as simple as one expected.Great acting as well. The two main actresses are fully in their characters and keep us watching by contributing to the psycho thriller with their acting.
More
During Guadalajara international film festival 2017, I had the opportunity to attend the screening of this movie.In the film, we follow a reclusive psychologist living in a lonely cabin in the middle of the woods, that decides to take as a patient a seeming disturbed young woman, as the therapeutically sessions move forward a mystery of childhood traumas unravelsNow, that is a premise is not very often heard in Mexican cinema, this psychological thriller revives true hope in new stories and new themes for the Mexican film industry and most important to its audience.Finally, I must mention that from a technical standpoint the movie is very good, shot in beautiful black & white and with excellent camera work.Kudos to all the staff involved in the making of this film, for taking chances to bring something else to Mexican cinema.
More