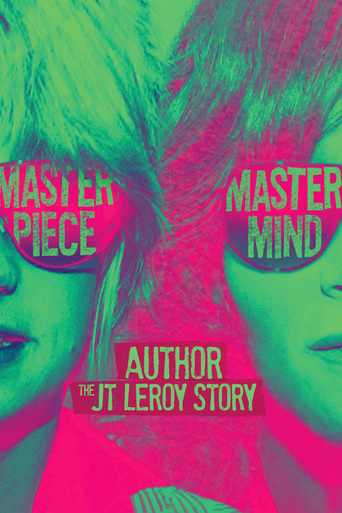 AD:This title is currently not available on Prime Video
Author: The JT LeRoy Story (2016)
AD:This title is currently not available on Prime Video
New York magazine's October 2005 issue sent shockwaves through the literary world when it unmasked "it boy" wunderkind JT LeRoy, whose tough prose about his sordid childhood had captivated icons and luminaries internationally. It turned out LeRoy didn't actually exist. He was dreamed up by 40-year-old San Francisco punk rocker and phone sex operator, Laura Albert.
...
Watch Trailer
Show More
Cast
Reviews
That was an excellent one.
More
It's funny watching the elements come together in this complicated scam. On one hand, the set-up isn't quite as complex as it seems, but there's an easy sense of fun in every exchange.
More
When a movie has you begging for it to end not even half way through it's pure crap. We've all seen this movie and this characters millions of times, nothing new in it. Don't waste your time.
More
I think this is a new genre that they're all sort of working their way through it and haven't got all the kinks worked out yet but it's a genre that works for me.
More
The cat is out of the bag. We finally meet the woman behind the creation of literary genius JT Leroy. This movie delves into the truth of Laura Albert, and it is surprising. She didn't intend to hurt people, but her creation, JT Leroy went from nom de plume to real life boy. And now we hear from Laura herself, apologetic yet unabashed. She reveals the behind the scenes of the New York Bestselling author that swept through the publishing world and became a well known, all while Laura watched from the sidelines watching the praise and acknowledgement get showered on her creation. But it all came crashing down and here we have the aftermath. This movie is fascinating and candid. The emotions are real. This is an important documentary that touches on things like identity, acceptance, betrayal, and finally the unmasking of the true genius behind the books, and the creation of JT Leroy.
More
This wasn't really a big story here, at least I don't remember anything at the time, but in the US, JT LeRoy was a celebrated underground author. Only problem was, he's not real. For a pretty punk tale, this doc is extremely well crafted, lovingly drip feeding the viewer this somewhat tragic and almost poetic and fascinatingly complex story. An intense story of identity, "built brick by dysfunctional brick" with the levels that are reached becoming truly staggering. What is 'real' anyway.
More
I saw this in my 2nd Yr as a Volunteer at the True/False Film Festival. Sometimes we get lucky to watch movies either thru the Q or as an usher, watching from the wings or empty seats. I knew J.T. Leroy as an author - I read "his" books working as a bookseller in both university and retail. I hadn't heard the name in several years & was lucky to see this doc at the 2016 Festival. I was shocked and amazed - and happy to learn "the fluid truth" this writer. I didn't feel tricked or lied to at all. In fact, for me, the extreme abuse she endured and her choice to create a story in-real-life as a boy makes sense. I see it as the ultimate form of a "pen name," doing so not only to tell a story but also as potentially therapeutic. The documentary shows the aftermath when readers learn her true identity & the over-reaction by readers and publishers. It documents the legal nightmare and (over?) reaction of readers to a quasi-fiction writer when the story should count more than the identity of the author. I agree with those upset that there was a physical lie - she passed someone else off as her in public. Not a great idea, but kids do stupid things. And the stories help those who are subjected to physical, psychological and other forms of abuse as kids/adults because of who we are. For me, the ends justified the deception - the documentary shows that most people in her world don't agree.
More
I went into the theatre knowing nothing about J T Leroy. I hadn't even heard of him. A recommendation from my daughter and a quick watch of half the trailer suggested this would be worth a watch.This is one of the best documentaries I have ever watched. It is told with pace and energy such that it feels more like a fictional drama unfolding in front of you. The story itself is weird. I empathised with the characters in particular the lead narrator and how she had slid down like Alice in Wonderland into a surreal world of fame and celebrity.Never dull and full of suspense and interest this is a great movie that I'd thoroughly recommend.
More