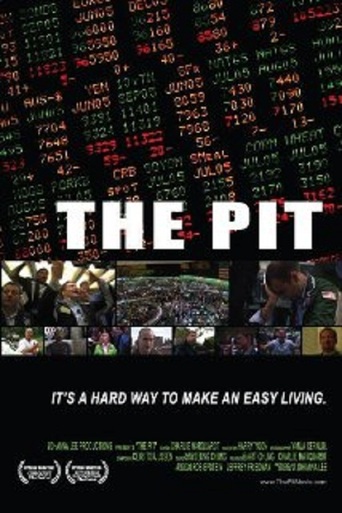 AD:This title is currently not available on Prime Video
The Pit (2009)
AD:This title is currently not available on Prime Video
Documentary directed by Johanna Lee's that explores the emotionally charged, cutthroat world of commodities trading. They try to make a living trading coffee on the New York Board of Trade before electronic trading threatens to make their way of life obsolete.
...
Watch Trailer
Show More
Cast
Similar titles
Reviews
The film makes a home in your brain and the only cure is to see it again.
More
Through painfully honest and emotional moments, the movie becomes irresistibly relatable
More
It is a whirlwind of delight --- attractive actors, stunning couture, spectacular sets and outrageous parties. It's a feast for the eyes. But what really makes this dramedy work is the acting.
More
Follows a scrappy group of commodities traders as they try to make a living trading coffee on the New York Board of Trade before electronic trading threatens to make their way of life obsolete.I can't say I understand the world of coffee and pork belly trading. It is completely foreign to me. This documentary is great. It attempts to explain what is actually done, and gets us up close with some of the people doing the trading. I can't say I fully understand what goes on even after seeing this, but I'm not sure if I ever will. The attempt was solid.As for meeting the traders themselves, it is actually rather interesting. Whatever you might expect them to be, they are not what you expect. I cannot imagine living in a world where I could be a millionaire one day and bankrupt the next.
More
Director Johanna Lee was in between projects and took her friend up on an offer to be an assistant on the trading floor of the commodities market. As she experienced the craziness first hand, she decided to make a documentary. Never before had a film maker been allowed full access to film the goings on - but Johanna had become one of them and so they allowed her full access for filming. The Pit gives a brief explanation of the process and impact of commodity worldwide, then takes us to the floor to experience the traders "in action". It is absolutely amazing and fascinating to see how transactions are made "on the floor". And whatever goes on in the pit - impacts the prices of commodities all over the world. The Pit ultimately focuses on a few traders at various stages of their trading careers. We learn about their personal lives, as well as their careers as Traders. It is really interesting getting to know these people - hearing their stories - experiencing their ups and downs. The story continues by following the traders over the course of four years. Towards the end of the four years, commodity trading goes electronic.....The careers and life styles of the people we have gotten to know through the film changes dramatically. The days of sellers and buyers screaming at each other across the floor come to an abrupt end. This makes the film that more precious as it is now a time capsule of a ritual that is gone. For years floor trading set the prices for commodities all around the world. Now it's all computerized...It's a fascinating story, outstanding film - very well written and edited. Highly recommended!
More