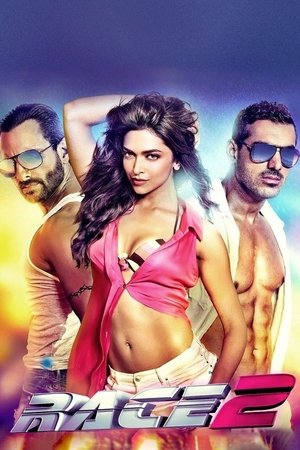 AD:This title is currently not available on Prime Video
Race 2 (2013)
AD:This title is currently not available on Prime Video
Ranveer Singh (Saif Ali Khan) travels to exotic locales and confronts the Turkish mafia on a mission to avenge the death of his lover Sonia in this action-packed sequel. In the process of seeking her killers, Ranveer crosses Armaan Mallick (John Abraham) and Aleena (Deepika Padukone) -- two of the most feared figures in the Turkish underworld. Meanwhile, Ranveer's loyal friend RD (Anil Kapoor) and his new partner Cherry (Amisha Patel) offer a helping hand in a world where love is cheap and trust is a luxury most agents can't afford.
...
Watch Trailer
Show More
Cast
Similar titles
Reviews
Very very predictable, including the post credit scene !!!
More
If you don't like this, we can't be friends.
More
The story, direction, characters, and writing/dialogue is akin to taking a tranquilizer shot to the neck, but everything else was so well done.
More
Great story, amazing characters, superb action, enthralling cinematography. Yes, this is something I am glad I spent money on.
More
This is one of the worst bollywood movie till date. Its 2015, and the only reason i am here reviewing this title is because i hear that Race 3 might come out soon. What the first one has was a couple of washed out actors, with more washed out actors, which made money for some reason. And enough money for a goddamn 60 crore sequel to an equally terrible movie. Honestly, the Indian movie going crowd is the one to blame here. But if we talk about the movie, the shortest summary i could give of it is TERRIBLE! I am surprised someone financed this stuff. One should know that no one gives a damn about Saif Ali Khan, or John Abraham, or Jacqueline Fernandez. Anil Kapoor has become the same idiot he was in the last one, and with an even wackier assistant this time. I was shocked to see people call it amazing, it is not! It copies from a lot of Hollywood movies, and bollywood as well. If someone were committed to find all the parallels, they wouldn't be disappointed.Overall, this is an embarrassment for Indian Cinema, but then most movies are, and only a few shine on these screens. But rest assured, this is not one of them!
More
Race 2 is a valiant effort at suspense, drama and the not-so-subtle plot-twist that yanks the rug out from the audience. Oh wait... actually, no it isn't.It left this viewer groaning, slapping his forehead in disgust and longing for a fast-forward button. I guess I'm not alone. Saif Ali Khan (- an actor whose choices and work I actually do admire -) even called parts of the film "plastic." Here are a few details that left me shaking my head: Why is it that every major announcement to a crowd in this film (toasts, celebrations, Godfathers talking to gamblers) is done in Hindi? Had no idea so many Europeans understood Hindi so well. Nicely done, Cypress! Did the filmmakers watch "Mask of Zorro"(1998) when trying to create flirty tension with a fencing scene? Catherine Zeta-Jones also had her dress ripped by Antonio Banderas the same way... except their characters used real swords. Fencing swords are really not that sharp, my friends.The filmmakers definitely watched "National Treasure"... and took detailed notes for "inspiration". (Shroud of Turin. Right.) This movie has more media, advertising and production partners than Rupert Murdoch and Facebook combined.If you like characters that eat lots of fruit, speak about eating lots of fruit, reference fruit with profound philosophy, and sleep with characters named after fruit... this is most definitely your movie.It is mandatory to have at least 3 scenes featuring the main actors emerging from a body of water... either shirtless, bikini-clad or both. Must be shot in slow-motion... running a hand through wet hair is a plus.Every song has to have the fans blasting at full power and pointed at the designated lip-syncher. Pantene pays royalties... either that, or they must be one of the media partners.
More
Hearing that this was a blockbuster and a box office hit I had some expectations out of it. Once I started watching the film it was simply getting unwatchable by the moment. I am Okay with Hindi "Masala" films which are made to please a larger audience however this was stretching the limit. Illogical plot, unbelievable characters, weak storyline and mediocre acting are the interest killers. And to top that off we have some really cheap, vulgar and unfunny jokes between Anil Kapoor and Ameesha Patel.There is no reason to watch this film which also incorporates some scenes heavily borrowed from Hollywood counterparts. I am still figuring out how come this film managed to get into the "100 crore" club whilst good films out there struggle to make a decent moola. Lastly, when the titles roll in the beginning it says that Ameesha Patel has a special appearance. Not sure if they messed it up and actually meant to say Bipasha Basu as Ameesha has some considerable presence throughout the film.
More
Race 2 was all that glitters but not gold. It started with a bang but looses the steam in the second half.Ranvir Singh( Saif Ali Khan) avenges the murder of his girlfriend(Bipasha Basu) by a plotting a plan to destroy Armaaan Malik(John Abraham), a ferocious underworld, with help of Robert D'Costa. Abbass-Mustan are not in form this time with the RACE sequel. The amount of twist-turns , the thrills , the songs , the beautiful climax is completely missing this time. The problem with RACE is the weak screenplay and unengaging story. The movie gives in some punching dialogues with cool action scenes in the beginning but when the actual story comes out , it looses the rhythm. The climax is not executed properly and is funny sometimes. Direction by dynamic duo Abbas-Mustan is clearly missing the mark here. Cinematography is eye-catching with well-executed action scenes. Songs are just about OK. Saif Ali Khan saves the day with his stylish and charming attitude along with wonderful performance. Rest of the star cast gives a terrible performance including John Abraham.Overall , huge amount of expectation build by RACE will be subsidized by weak movie called RACE 2. Average - 2.5/5
More