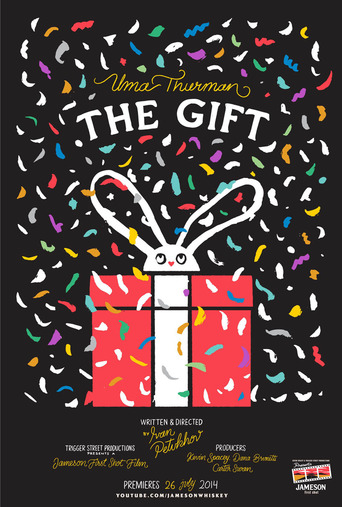 AD:This title is currently not available on Prime Video
The Gift (2014)
AD:This title is currently not available on Prime Video
The gift wrapper of a department store works after hours to serve a stage magician.
...
Watch Trailer
Show More
Cast
Reviews
The film makes a home in your brain and the only cure is to see it again.
More
Good films always raise compelling questions, whether the format is fiction or documentary fact.
More
The story, direction, characters, and writing/dialogue is akin to taking a tranquilizer shot to the neck, but everything else was so well done.
More
"The Gift" is an 8.5-minute live action short film from 2014 and so far the only filmmaking effort by Ivan Petukhov. And to see that he got Oscar-nominated actress Uma Thurman to play the central character here is quite something and the reason is that this is another entry to the series of Jameson short films, a project supported by actor Kevin Spacey that helped aspiring filmmakers in getting their stories to the screen. Spacey has starred in some of these himself and another actor you find participating is Adrien Brody. Anyway, back to this one here: It is basically a 2-people movie if you don't count the old lady early on. We got Thurman playing a really talented gift wrapper trying to help a magician with his ideas. It is a bit predictable es, but this really wasn't the main problem here. It may have been the script. Thurman definitely elevated the material at times, but I still found it difficult to care for any of the characters and what would happen to them next. I am not sure what it was. It wasn't really funny, so not a comedy, it certainly wasn't dramatic, so not a drama and the romance element was not enough either in both quantity or quality to call it a little romance piece. Maybe you could just call it a character study. But not one that was good enough for me to recommend it or give me hope that Petukhov returns to filmmaking soon sadly. Only worth seeing for the very biggest Uma Thurman fans. Everybody else can skip it and they will not be missing out on a lot here.
More