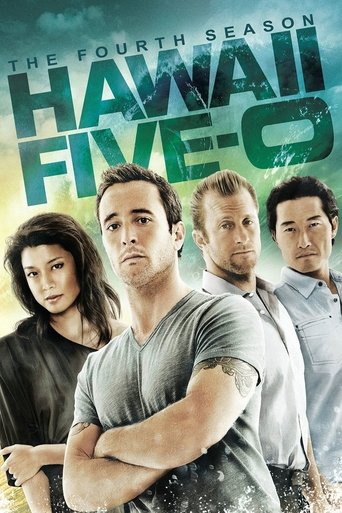 AD:This title is currently not available on Prime Video
Hawaii Five-0 Season 4
This title is currently not available on Prime Video
Steve McGarrett returns home to Oahu, in order to find his father's killer. The governor offers him the chance to run his own task force (Five-0). Steve's team is joined by Chin Ho Kelly, Danny "Danno" Williams, and Kono Kalakaua.
...
Watch Trailer
Hawaii Five-0 Season 4 Full Episode Guide
Episode 22 - O ka Pili 'Ohana ka 'Oi
First Aired: May. 09,2014
When Grover's daughter is kidnapped by an old nemesis, he is forced to help steal $100 million in order to get her back. Meanwhile, Wo Fat escapes prison and heads back to Oahu.
Episode 21 - Makani 'Olu a Holo Malie
First Aired: May. 02,2014
McGarrett and Catherine travel overseas to Afghanistan to stop the Taliban from harming a young boy whose family saved Catherine's life years ago.
Episode 20 - Pe'epe'e Kanaka
First Aired: April. 25,2014
The investigation of a murdered pool cleaner leads the Five-0 team to a possible terrorist cell of radicalized students plotting an attack on U.S. soil.
Episode 19 - Ku I Ka Pili Koko
First Aired: April. 11,2014
Five-0 is set up when a bad tip leads them to an abandoned building that is rigged to explode with McGarrett and Danny trapped inside.
Episode 18 - Ho'i Hou
First Aired: April. 04,2014
Five-0 investigates when the daughter of a macadamia nut tycoon is murdered with a stiletto heel during Chin's high school reunion.
Episode 17 - Ma lalo o ka 'ili
First Aired: March. 14,2014
A man is shot as his daughter is abducted; Danny tries to reunite his parents; Jerry finds a code on McGarrett's champ box.
Episode 16 - Hoku Welowelo
First Aired: March. 07,2014
A triple homicide is linked to a secret, downed Chinese satellite; Danny's mother goes on a ride-along with Grover.
Episode 15 - Pale 'la
First Aired: February. 28,2014
A real estate agent is found dead inside the walls of one of his listings. Meanwhile, Danny's mother makes an unexpected visit and brings with her some shocking news.
Episode 14 - Na hala a ka makua
First Aired: January. 31,2014
An escaped convict who wants Five-0 to prove his innocence abducts Danny and McGarrett; Grace punches a person at school.
Episode 13 - Hana Lokomaika'i
First Aired: January. 17,2014
Chin is questioned about his father's murder and how his relationship with Malia and her family could have adversely affected the investigation.
Episode 12 - O Kela Me Keia Manawa
First Aired: January. 10,2014
Captain Grover is aided by McGarrett in his search for a friend who has disappeared, after it seems like he's committed murder. Kono persists in her quest to find Adam.
Episode 11 - Pukana
First Aired: December. 20,2013
An investigation involving a potential serial killer puts Chin's life in danger; Grace and Danny find a mysterious puzzle box.
Episode 10 - Ho'onani Makuakane
First Aired: December. 13,2013
The attempted murder of a Pearl Harbor veteran leads Five-0 to use decades old evidence to investigate a deadly crime committed within the internment camps on Oahu during World War II.
Episode 9 - Hau'oli La Ho'omaika'i
First Aired: November. 22,2013
As Thanksgiving approaches, Five-0 investigates the murder of a secret service agent just as the President travels to Oahu. Also, McGarrett's Aunt Deb visits, bringing with her a shocking secret.
Episode 8 - Akanahe
First Aired: November. 15,2013
McGarrett and Grover must work together to protect national security after they are tasked by the Governor to serve a warrant to a young computer hacker.
Episode 7 - Ua Nalohia
First Aired: November. 08,2013
While working the murder case of an undercover ATF agent, McGarrett and the Five-0 team are tasked with watching Mary's newly adopted baby after she gets sick.
Episode 6 - Kupouli 'La
First Aired: November. 01,2013
When Halloween comes to Hawaii and a zombie-like man is shot, Five-0 races to stop a madman who is conducting experiments on humans.
Episode 5 - Kupu 'eu
First Aired: October. 25,2013
As Catherine's seemingly harmless surveillance job takes a deadly turn, Adam considers making the ultimate sacrifice to save Kono.
Episode 4 - A ia la aku
First Aired: October. 18,2013
Five-0 investigates the murder of a wedding crasher, and their prime suspect is the runaway bride. Meanwhile, Danny makes a big decision regarding his relationship with Gabby.
Episode 3 - Ka'oia I'o Ma Loko
First Aired: October. 11,2013
A conspiracy theorist helps Five-0 when a missing artifact is the key to solving a double murder.
Episode 2 - A'ale Ma'a Wau
First Aired: October. 04,2013
As the Five-0 team members investigate a murder, they are led to a Texas ranger who came to Hawaii to look for his daughter; Adam and Kono fight to stay alive.
Episode 1 - Aloha Ke Kahi I Ke Kahi (We Need Each Another)
First Aired: September. 27,2013
After McGarrett and Wo Fat narrowly escape from maximum security, gunmen storm Five-0 headquarters, compromising Kono and Adam's secret location in Hong Kong and forcing McGarrett to break the law and turn on his own in order to find a kidnapped Catherine.
Show More
Seasons
Similar titles